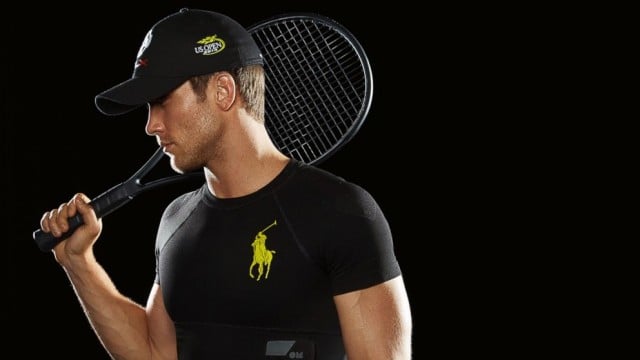 Ralph Lauren Corp. has unveiled a line of shirts that read your vitals. The Polo Tech tee was unveiled at the U.S. Open this week where it was announced that several ball boys and athlete Marcos Giron will be sporting the new top. Ralph Lauren has joined the club of emerging fashion-forward technology wearables, connecting our clothes to the ever-expanding "Internet of Things."
The Polo Tech shirt has sensors knitted into the fabric that read your heart rate, breathing, and movement. Just below the chest there's a band of thicker material that snaps a removable black module to the shirt. It houses Bluetooth to sync with mobile devices, as well as an accelerometer and gyroscope to track movement. Imagine being able to see a player's heart rate before a match and right before the first serve of a game. If audience members had access, they could get new insight into a player's nerves; coaches could read performance; and players would have easy access to their stats and performance on their phone.
Even with all this tech embedded within the shirt it's still machine washable — just remove the snap-on module. The product is still in the prototyping phase, it's not slated for release until 2015. Companies have been pushing wearable tech, especially fitness bands and devices. Fashion has yet to make the same strides toward meshing tech with fashion, but shirts seem like a natural fit for the health market; they slip on at the start of your day and cause less of a nuisance than a watch or pedometer could. The marriage seems inevitable.
"Our goal is to recognize the fact that this market is wanting a life that not only looks better, but actually feels better and is a healthier life," said David Lauren. It isn't the first company to meld health tracking with clothing, though.