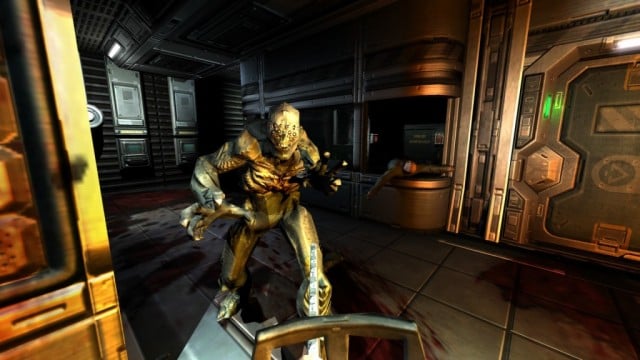 At long last, a new Doom is heading our way. The upcoming game was first announced at QuakeCon way back in 2007, but we haven't heard much about it in the meantime until this year's E3 when developer Id Software showed off a brief teaser trailer. Then yesterday, after all these years, Id gave the gaming press a 20-minute glimpse of actual gameplay. So how does it look?
Unfortunately, no recordings of the event were allowed, and Id has elected not to release the footage to the world at large. It was an under-wraps, closed-door preview of the game, but the journalists in attendance were allowed to report what they saw. And report they did. We've gathered their impressions to deliver a clear look at what to expect in the game.
But before we dive in, here's some background on the game. This is the first entry in the Doom franchise in 10 years, since Doom 3 released in 2004. But instead of continuing the story line of the 21-year-old series, the upcoming installment will be a reboot of the original title. So this game won't be Doom 4 – it will simply be called Doom. It will launch on PC, Xbox One, and PlayStation 4. No release date has been announced.
Polygon reports that the gameplay demo begins with hordes of demons invading a military base on Mars. The gameplay features lots of fast-paced action, with the main character battling numerous demonic enemies at once — a stark difference from Doom 3, which had a much more deliberate pace and fewer enemies onscreen at a time. In another departure for the series, the main character is seen jumping and using a jetpack to double-jump — actions that weren't possible in the first two installments of the series.