After an eight day losing streak, the Dow (NYSE:DIA) found a way to close the day higher on Wednesday.  The S&P (NYSE:SPY) closed higher at 1,260, but has barely gained since it opened the year at 1,257.  As the economy continues to struggle, money is flowing from equities into safe havens such as gold (NYSE:GLD) and silver (NYSE:SLV).  Gold closed at another nominal high of $1,666 as silver neared $42.
The chart below shows the recent breakout in both gold and silver from their summer ranges.  There are many factors adding to the bull cycle for precious metals (NYSE:DBP).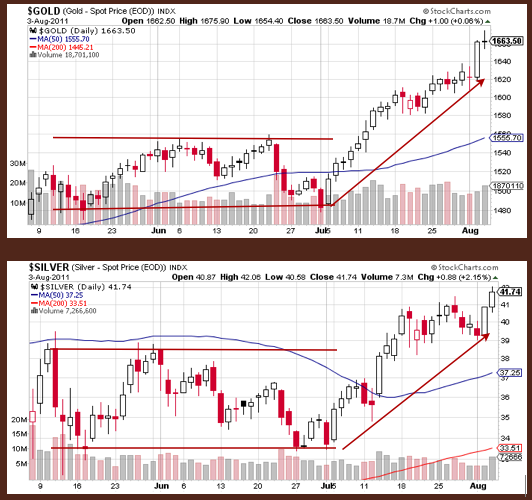 With QE1 and QE2 in the past, it seems that investors are positioning for another round of quantitative easing.  Poor economic reports continue to fuel recession fears and stimulus expectations.  For example, planned layoffs for July surged 59%, which was the highest monthly total since March 2010.  Even Wal-Mart (NYSE:WMT) revealed in a leaked memo that visits to Wal-Mart stores have dropped 2.6% from February through June. Meanwhile, the biggest dollar discount chain in the country, Dollar General (NYSE:DG), has increased store traffic for the past 13 quarters.
Even if the Fed surprisingly holds off on QE3, investors will still seek U.S. dollar (NYSE:UUP) protection in precious metals. The raising of the debt ceiling only reminded investors that the budget is anything but under control.  The WSJ also reported this week that the last three directors of the Fed's powerful monetary affairs committee, put the risk of a new economic contraction between 20% and 40%.  They said the Fed should consider a third round of bond purchases only if inflation slows from recent elevated levels and if the economy continues to underperform.
Investors looking to hold metal miners in their portfolio may want to consider gold plays such as AngloGold (NYSE:AU), Newmont Mining (NYSE:NEM), or Market Vectors Jr Gold Miners ETF (NYSE:GDXJ).  Hot silver miners include First Majestic Silver (NYSE:AG), Endeavour Silver (AMEX:EXK), and Global X Silver Miners ETF (NYSE:SIL).
For more analysis on our support levels and ranges for gold and silver, consider a free 14-day trial to our acclaimed Gold & Silver Investment Newsletter.
Disclosure: Long AGQ.