10 Cars and a Truck Rated Best in Class for 2014
Consumer Reports has revealed its best cars for 2014, perhaps one of the most anticipated automotive reports to be released each year. To make the cut, the vehicles in question — which have been subjected to Consumer Reports' battery of tests — "must rank at or near the top of its class in our overall test score."
Each car must score an average or better reliability rating, which is based on the problems that Consumer's subscribers reported on 1.1 million vehicles in the latest Annual Auto Survey conducted by the Consumer Reports National Research Center, the publication said. Furthermore, Top Picks must also perform adequately if included in crash or rollover tests conducted by the government or insurance industry.
Here are the ten leaders in their respective categories, as chosen by Consumer Reports. The price reflected is the price that the publication paid at the point of purchase, and notably reflect a well-appointed model that includes options. Readers should keep in mind that the cars can be had for less, and that the results are based on the priced-as-tested models. 
10. Pickup Truck: Ram 1500
Consumer Reports called the Ram (FIATY.PK) 1500′s 2013 refresh "refined and inviting," and that the Ram's coil-spring rear suspension, which is unique for full-sized pickups, makes the 1500 "the most comfortable-riding truck." As tested, the Ram weighed in at $42,810, definitely on the higher end of the price spectrum (it starts at $24,385); Consumer Reports said that although the Silverado outscored the Ram in testing, its reliability is so far unknown, but it added that the 1500′s 5.7 liter V8 delivered "effortless power" while still returning a decent 15 miles per gallon.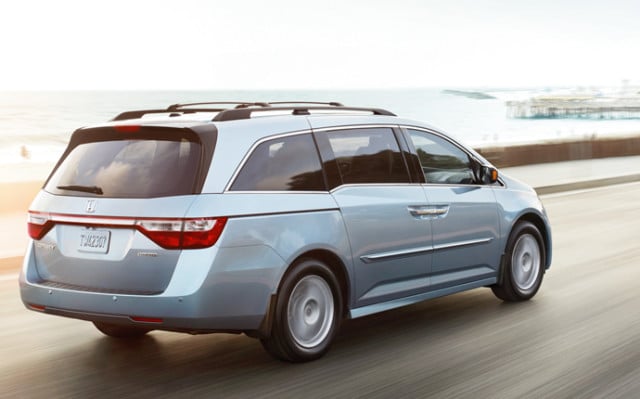 9. Minivan: Honda Odyssey
Honda's (NYSE:HMC) Odyssey is a perennial favorite among testers and reviewers, and the 2014 model is no different. The publication called it "most complete family vehicle you can buy," and commended its "comfy second- and third-row seats" that can be configured in numerous ways to increase versatility and address a wide range of cargo- and passenger-carrying needs. CR also enjoyed the Odyssey's easy access, its excellent child-seat accommodations, the quiet interior, plenty of cabin storage, and decent fuel economy, and noted that it's among the most fun to drive out of the minivan segment. As tested, it rung up at $36,840.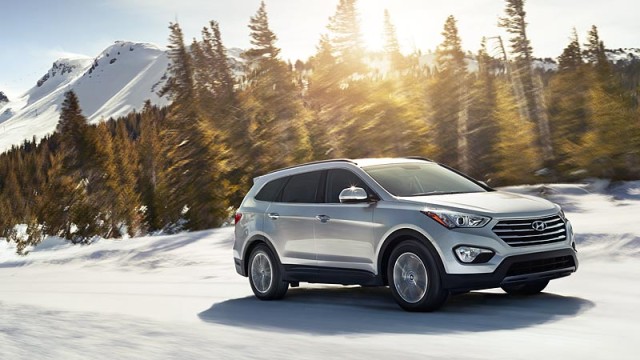 8. Midsize SUV: Hyundai Santa Fe
Hyundai has come from a lowly producer of economy cars to a maker of "one of the most pleasant and well-rounded SUVs," CR has found. It complimented the Santa Fe on its "comfortable ride, a quiet interior, a limolike rear seat, and generous cargo area," which checks all the needed boxes for an SUV; its smooth engine, relatively decent fuel economy, and numerous features for the money only make the Santa Fe better. Outfitted for the testing, it costed $36,290.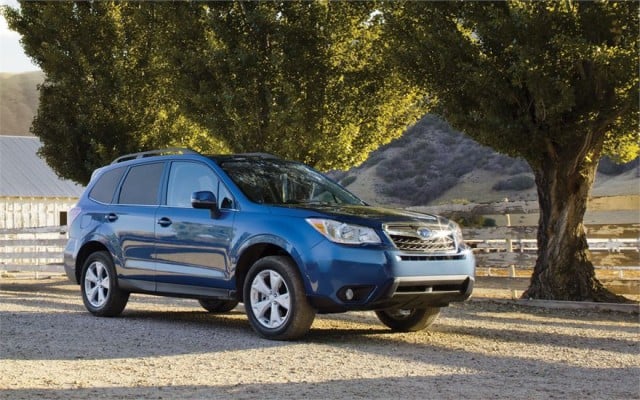 7. Small SUV: Subaru Forester
The Subaru Forester has always been near the top of its class, but the 2014 redesign pushed it the leading spot. "With a space-efficient design and large windows and doors, this user-friendly SUV provides the easiest access and best visibility in its category," CR said. Despite a firm ride and dated electronics, CR noted that it provides an excellent driving position, simple controls, and one of the roomiest rear seats in the category — it's also all-wheel drive as standard, and leads the segment with 26 miles per gallon overall. As tested, it clocked in at $26,814.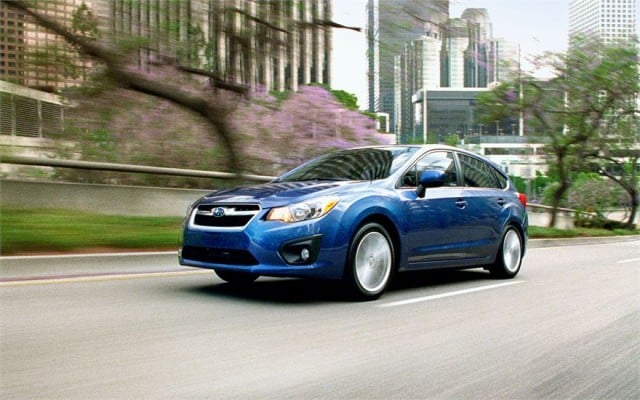 6. Compact Car: Subaru Impreza
On the tails of the Forester is Subaru's redesigned Impreza, which "gives you a lot for its affordable price" — as tested, the sedan was $21,345, and the hatchback was $22,345. Its handling was found to be "nimble" and its ride was "impressively compliant and absorbent." It has standard all-wheel drive, commendable fuel economy, and is also "easy to live with," thanks to a roomy interior, spacious rear seat, simple controls, and refreshingly good visibility.
5. Green Car: Toyota Prius
The old hybrid stalwart, Toyota's (NYSE:TM) Prius remains on top as "none can match the combination of affordability, practicality, and fuel efficiency" that it provides — the Prius is the Green Car pick for the 11th consecutive year, as its 44 mile per gallon rating overall is still the best that CR has measured in any five-passenger, non-plug-in vehicle; add to it its roomy interior and hatchback versatility make it practical as well. The model that CR tested ran  $26,750.
4. Midsize Sedan: Honda Accord
Like the Prius, the Honda Accord sedan has been a long-time favorite at Consumer Reports, and the latest model keeps the trend going. "The four-cylinder Accord occupies a true sweet spot in today's auto market," CR says. "It's a roomy, well-equipped, and competitively priced sedan that gets a lot right." It returns good fuel economy, offers agile handling, and costs a rather competitive $23,270 as tested. However, CR noted that the ride wasn't as smooth as its rivals, and the HondaLink system wasn't recommended for reliability reasons.
3. Sports Sedan: BMW 328i
"Excellent handling and a high fun-to-drive factor" are just two reasons that CR loves the BMW 328i. Add to it the fact that it's also roomier, more luxurious, and more fuel-efficient than past models, and it's no surprise that the new 3 Series took the top honors. It cost CR $43,195 as tested, and offered a "quick and thrifty" 2.0 liter four-cylinder that returned a best-in-class 28 miles per gallon on the highway. On the downside, the backseats were fairly cramped, though the fit and finish was deemed "impressive."
2. Luxury Car: Audi A6
"Its potent, supercharged V6 engine and super-smooth eight-speed automatic transmission deliver invigorating power" make the Audi A6 a "joy to drive," CR says of the German marque's flagship sedan. The "comfortable ride" is accentuated by "a sumptuous, impeccably finished, first-class cabin that's brimming with the latest high-tech," features. The mileage is decent, and there's a diesel model available as well; all told, the tested model rung up at $56,295.
1. Best Overall: Tesla Model S
After racking up a 99 out of 100 score, it's not a surprise that the Tesla (NASDAQ:TSLA) took the top honors as the best overall car. "The Tesla is brimming with innovation," CR exclaims. "Its massive, easy-to-use 17-inch touch screen controls most functions. And with its totally keyless operation, full Internet access, and ultra-quiet, zero-emission driving experience, the Tesla is a glimpse into a future where cars and computers coexist in seamless harmony." It also complimented the car on its rival-to-none EV performance, its ease of use and practical nature, and its 225-mile range. You'll pay for it, though; as tested, the Model S costs $89,650.
More From Wall St. Cheat Sheet: