3 Auto Stocks Going Places: Consumer Reports Dings Toyota, Ford Halts Romanian Plant, Tesla's New Laurels
Toyota Motor Corp. (NYSE:TM): Toyota's Camry, RAV 4, and Prius V hybrid have had their Recommended rating yanked by Consumer Reports due to poor scores in the new Insurance Institute for Highway Safety front overlap crash test. The magazine said it will no longer recommend cars that do poorly in any of the crash tests; the move is a bit of a blow to Toyota, as the Camry has routinely been the recipient of the Recommended designation. The company is aiming to retake the test in December, after making some improvements.
Ford Motor Co. (NYSE:F): Ford has halted production at its facility in Romania due to weak European demand. When in full swing, the plant churns out roughly 370 cars per day and 1,000 engines for several models. The halt will last for 13 days in November; almost all of Ford Romania's 4,000 employees will be affected by it and will receive 80 percent of their wages during the stoppage.
Tesla Motors (NASDAQ:TSLA): With a score of 99 out of 100 and lauded as "the most practical electric car we've ever tested," it would surprise many that the Model S sedan hasn't previously been awarded Consumer Reports's coveted Recommended rating. However, there's a specific reason — Consumer Reports needs sufficient data on a car's reliability before it can offer up the distinction. The magazine now has it, and the Model S comes as a Recommended option from one of the most influential auto shopping tools available.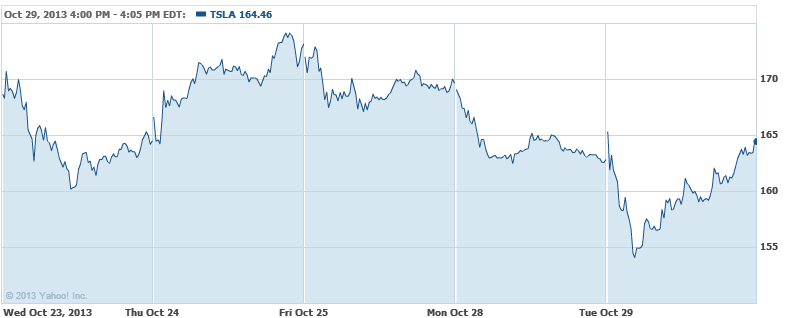 Don't Miss: Toyota Keeps Global Sales Crown Just Out of GM's Reach.