3 Auto Stocks Going Places: Daimler Pushes Tesla Cooperation, Ford's Big Sales Rise, GM's Stock Buyback
Tesla Motors Inc. (NASDAQ:TSLA): One of Tesla's institutional shareholders is pushing for more cooperation with the Fresno, California-based EV maker. Daimler AG, the parent of Mercedes-Benz, is hoping to take more advantage of its 4.3 percent stake in Tesla; "I told my guys, go back to Tesla and look for other opportunities" to work together, Bodo Uebber, Daimler's chief financial officer, said at a press briefing. "We want to look for more cooperation. We could use more" from Tesla, Uebber said, without providing specifics. Tesla's battery technology will likely find its way into the new Mercedes B -Class electric and the new Smart Fortwo EV.

Ford Motor Co. (NYSE:F): Ford's Lincoln brand saw its sales rise by approximately 30 percent in October, posting significant gains ahead of the holiday season. The recently revamped Lincoln MKZ sedan led the way in the upsurge, with its sales rising by 70 percent this month amid a flurry of advertising support. This is welcome news to Ford, a company that has seen its Lincoln luxury brand trail behind the luxury lines of other automakers for years.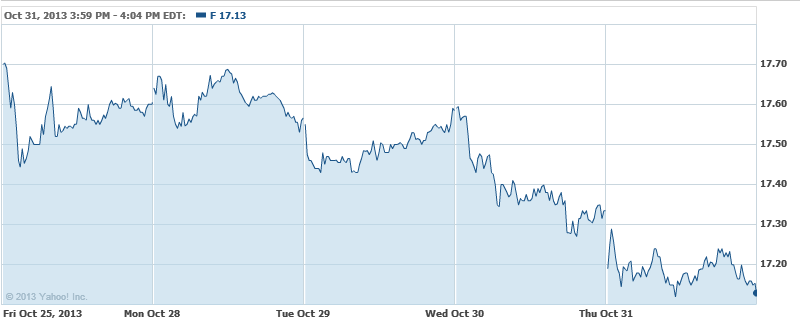 General Motors Corp. (NYSE:GM): GM could end up repurchasing some of the Treasury's 100 million or so remaining shares in the company as the government nears an exit to its bailout program. "We expect GM to pursue a $2 billion to $2.5 billion share buyback between mid/late November," said Barclays auto analyst Brian Johnson, adding that "a share buyback would not only benefit GM and the Treasury, but would also remove the selling pressure overhang."
Don't Miss: Chevy's Forthcoming SS Is a Thirsty Beast.