3 Auto Stocks Going Places: Ford's Big Recall, General Motors and Honda Post Solid May Numbers
Ford (NYSE:F): Ford has issued a recall for 465,000 2013 models for potential fuel tank leaks, that could ultimately result in a fire. The Fusion, Flex, Explorer, Taurus, Interceptor Sedan and Interceptor Utility, as well as the 2013 Lincoln MKZ, MKS and MKT were all encompassed in the recall, and the company says it may not have replacement parts for all the owners affected until September. Ford said a fuel delivery module in the tank could leak, and that it had received 600 consumer complaints as of March 31. About 420,000 vehicles are in the United States, Canada and Mexico.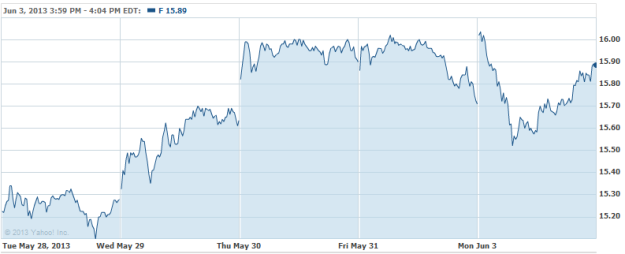 General Motors (NYSE:GM): A gain of 3.1 percent for the month of May is commendable, but shy of the 5.5 percent gain that was expected by analysts. The 252,984 vehicles sold represent a 9 percent increase in retail sales, although fleet sales suffered a 10 percent decline (and 26 percent of total sales). Cadillac carried the brand with a 39.9 percent leap over May of last year, with Chevy up 0.9 percent, GMC up 7 percent, and Buick  down 3.1 percent. Overall, the best month of sales since September of 2008.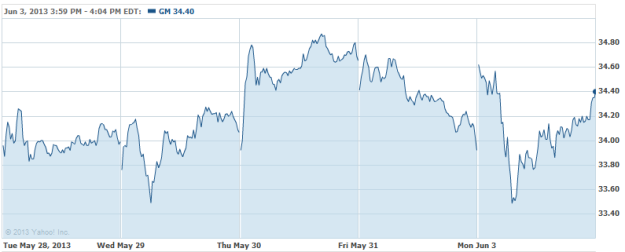 Honda Motor Co. (NYSE:HMC): Despite a slight drop off in Acura sales, Honda was able to gain 4.5 percent over May of last year, with 140,013 vehicles moved. The Honda nameplate rung up 5.2 percent in sales gains, offsetting Acura's 1.5 percent decline. A strong 11.7 percent gain from the Accord helped to counter the 9 percent decrease from the Civic, and the CR-V's 8.4 percent gain was dwarfed by the Fit's 20.3 percent increase. "Looks like American families are preparing for summer road trips as our family-friendly light truck lineup posted the best May sales in Honda history," said John Mendel, executive vice president of Sales at American Honda. "Virtually every Honda vehicle we sold in May represents a purchase by an individual customer, which means Accord, Civic, CR-V and Odyssey will maintain their industry-leading retail sales performance in 2013."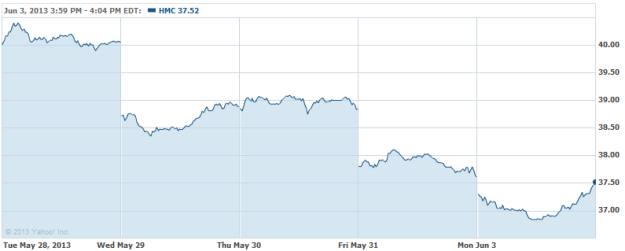 Don't Miss: Can Small SUVs Excite America? Ford Thinks So.