3 Auto Stocks Going Places: Ford's Big Spend, Tesla Slides on Soft Europe Demand, Toyota's Big 10
Ford Motor Co. (NYSE:F): Ford's annual spending budget will top $100 billion this year, according to the automaker's head of purchasing, and can be owed to the anticipated rise in global vehicle production, costs of new technology, and rigorous fuel economy standards. Roughly two-thirds of that amount is attributed to manufacturing expenses, while the increased spending comes as Ford plans to cut down its number of suppliers from about 1,300 to 750, according to The Detroit News.

Tesla Motors (NASDAQ:TSLA): Tesla shares are pulling back as a report surfaced that reveals the demand for Tesla's Model S sedan in Germany, the Netherlands, and Denmark has been slow to get off the ground; while Norway has taken in 801 deliveries of the car, the previous three countries have taken delivery of just 531 combined. "The American electric car maker Tesla's global expansion in Germany is making comparatively slow progress," said the German-language Manager magazine.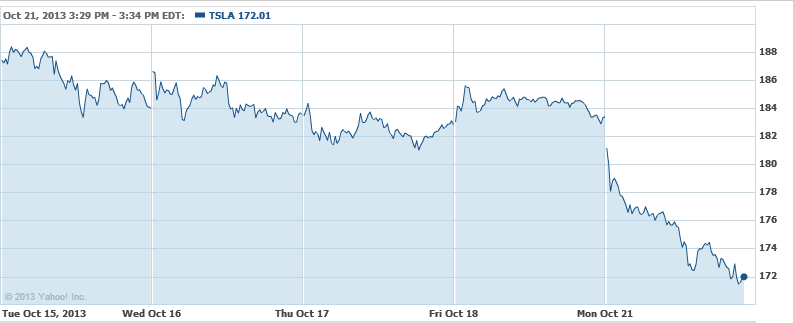 Toyota Motor Corp. (NYSE:TM): Toyota has been in the headlines most recently for its giant, 800,000-plus vehicle recall, but the company hit a milestone over the weekend that wasn't as widely publicized. This year marks the 10th year of making pickup trucks at its San Antonio, Texas, manufacturing plant, and to celebrate, the company has donated 10 Tundra pickups to surrounding charities in the San Antonia area. Toyota's facility, built in 2003, cost $2.2 billion to build, employs 2,900 people, and produces more than 200,000 pickups per year.

Don't Miss: Ouch: Toyota Gets Burned Again With 885,000-Vehicle Recall.