3 Auto Stocks Going Places: Ford's Huge Quarter, Dispute Threatens Toyota's Sales, and Tesla Rides the Current
Ford Motor Co. (NYSE:F): Judging by sales of the popular Fusion, analysts are speculating that Ford is on the verge of reporting its most profitable quarter, ever. The company "probably earned" a record $2.7 billion pretax profit in North America during the first three months of the year, and assuming the figures are accurate, it would be largely indicative that the automaker's turnaround has been successful. Strong sales of the Fusion, Focus, Escape and F-Series have helped bring the company back from the brink.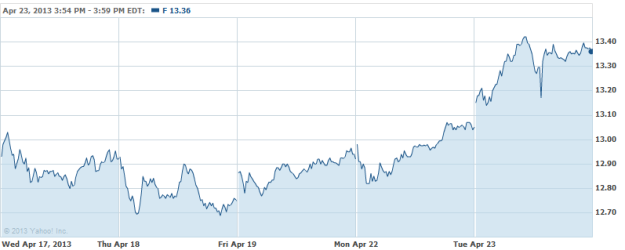 Tesla Motors (NASDAQ:TSLA): The electric car maker's stock has been on a tear, and hasn't shown signs of slowing. The shares continued to break new ground for the company, reaching an all-time high of $52.92 on Tuesday. No indication as to why the stocks continue to climb has been offered; the latest data and updates from Tesla's production figures isn't due for a few months, lending speculation that the rise may be attributed to a short squeeze.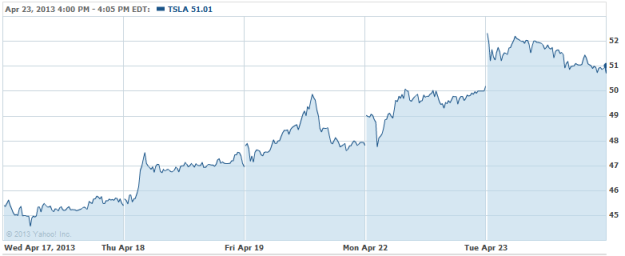 Toyota Motor Co. (NYSE:TM): Following announcements from Toyota and Honda (NYSE:HMC) about the Chinese market picking back up again after a nosedive in sales from anti-Japanese sentiment, the ropes begin to fray again as tensions over a disputed string of islands between the two countries ignite, prompting a show of force on both sides, which dispatched naval units to the area. The renewed heat between China and Japan could very well set back plans of the Japanese companies and provide a fresh challenge to competing in the world's largest auto market.

Investing Insights: Can Tesla Continue This Bull Run?