3 Auto Stocks Going Places: Ford's Monster Quarter, GM's EV Commitment, and Toyota's Dominance
Ford Motor Co. (NYSE:F): The American auto industry has been staging a roaring comeback, and Ford's strong performance last quarter confirms it. Earnings of $0.41 beat estimates by $0.04, and revenue of $35.8 billion beat by $2.03 billion. Significant profits in North America and Asia helped offset weaknesses in South America and Europe, where devaluation of currency (South America) and higher pension costs (Europe) handed huge challenges to the company's bottom line.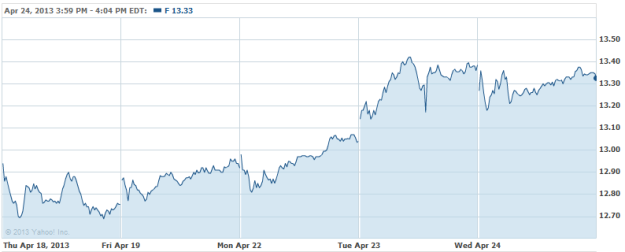 General Motors (NYSE:GM): The new generation Spark, one of GM's compact offerings, may get nearly double the mileage of the Volt once the same plug-in drive train is shoe-horned into the vehicle this summer. EPA estimates put the combined mileage (city and highway) of the car — which will only be sold in California and Oregon, to start — at 82 miles before the gasoline engine boots up, trumping the Volt's 40 estimated miles currently.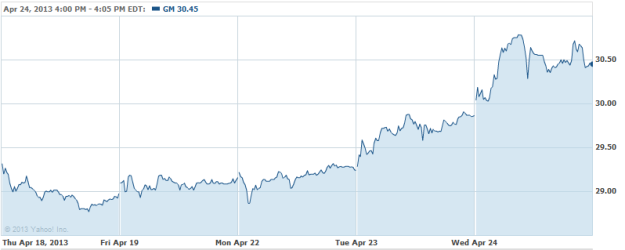 Toyota Motor Co. (NYSE:TM): For the fifth consecutive quarter, Toyota has outsold General Motors in volume, moving 2.43 million units during the first quarter versus GM's 2.36 million. The Japanese manufacturer, which unseated GM as the largest maker of cars in 2008 (ending a 77 year reign), has been using a sliding yen to its advantage, which may only get it so far in light of numerous new product releases from the American firm. The company hopes to hit 10 million units moved during 2013, an accomplishment never before obtained by an automaker.

Don't Miss: Is GM Really Making the Cleanest Car in America?