3 Auto Stocks Going Places: General Motors Makes Huge Gains for June, Tesla Meets Its Petition Mark, and Honda's Alliance With GM
General Motors Co. (NYSE:GM): GM's momentum this year continued throughout June with a 6 percent gain in sales, well above estimates that pegged the figure at 1.3 percent. Crossovers rose 9 percent; trucks, vans and SUVs swelled 8 percent; and car sales grew by 4 percent. Cadillac sales rose 38 percent after posting similarly impressive gains in May, with the new ATS and XTS both selling impressively. The Chevy Cruze, in the meantime, set a sales record. Weaker performance from GMC and Buick offset further gains overall, but with the 2014 Silverado due this month, it's likely that GM will continue to grow.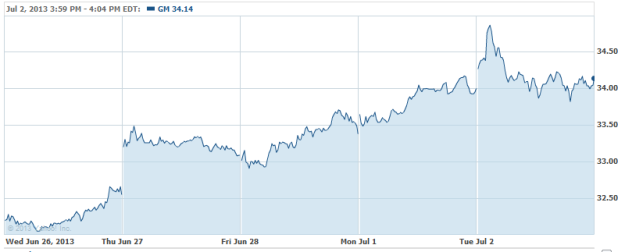 Tesla Motors (NASDAQ:TSLA): Tesla shares hit all-time highs for the second day in a row, still riding on a bullish note from Jefferies. While the industry is watching sales data starting to trickle from the major players, Tesla has been focused on getting the 100,000 signatures needed to petition the Obama Administration to allow the company to sell its products directly to the public. The company achieved the milestone Tuesday.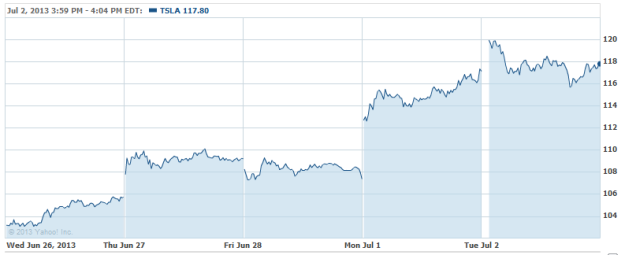 Honda Motor Co. (NYSE:HMC): Honda has partnered with General Motors to further develop technology for fuel-cell powered vehicles that are similar to Honda's existing FCX Clarity. Few details of the deal are known, but it was made clear that the two companies would be developing the guts, not a full vehicle. Alliances between automakers have sprouted recently, as they can cut costs and speed development for new projects. Alternative energy has been a hot topic of late, and bigger brands are scrambling to get onto the front lines.

Don't Miss: Case Closed: Ford Is Writing to Taurus and Mercury Sable Owners.