3 Auto Stocks Going Places: GM Brushes Off China Comment, Ford Ponders Thailand, and Toyota's Huge Profit
General Motors (NYSE:GM): In response to a Wall Street Journal piece that nicknamed GM as "General Tso's Motors" in reference to the company's huge investment plans for China, the automaker has retorted by pointing out that it has $16 billion in investments slated for the U.S. That would be in addition to the $8.5 billion that GM has spent since 2009, and would be well above the $11 billion that GM and its joint ventures plan to invest in China over the next three years.

Ford Motor Company (NYSE:F): In order to avoid putting itself into a position like the one it found itself in following the crisis in Europe, Ford is setting about to determine the best way to use its facilities in Thailand, which can produce eight times more vehicles than it sells locally. In order not to let that space go to waste and become a liability, Ford wants to join a Thai program to build energy-efficient models after new licenses become available.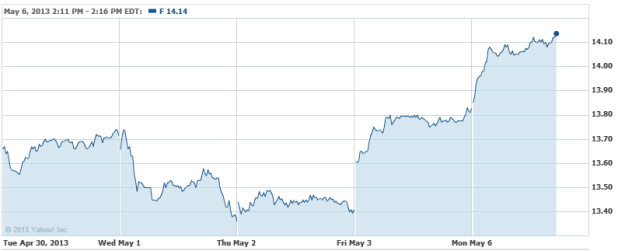 Toyota Motor Corp. (NYSE:TM): The world's largest car maker is expecting to post a fiscal-year operating profit of about 1.3 trillion yen, or roughly $13.1 billion. It will be the first time since the financial crisis that the figure surpassed the 1 trillion yen mark, and will also be about 3.7 times over the amount recorded last year. It additionally represents an upward adjustment of about 150 billion yen from the company's February forecast.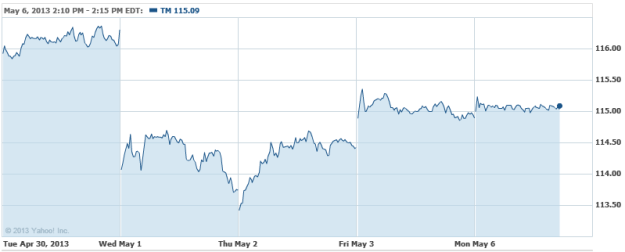 Don't Miss: Have Ford and GM Killed the Japanese Midsize Car?