3 Auto Stocks Going Places: GM Contends With Peugeot, Toyota Looks to Hydrogen, and Honda's New Kid-Carrier
General Motors (NYSE:GM): The family that is in control of PSA Peugeot Citroen has signaled that it might be willing to relinquish its control of the company to General Motors, if a combination with GM's Opel unit could be worked out. GM said last week that it would not put more money into Peugeot, but it could be swayed if the automaker has the power to make broad capacity cuts.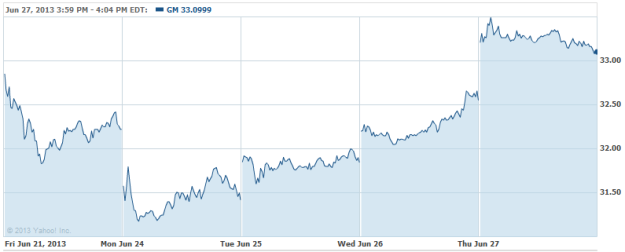 Toyota Motor Corp. (NYSE:TM): Toyota shares a re heating up after the company announced its intentions to unveil its hydrogen-powered sedan at the Tokyo Motor Show in November, which the company is hoping will emulate the sales success of its class-leading Prius. Hydrogen technology has historically been prohibitively expensive, making Toyota's plans all the more intriguing.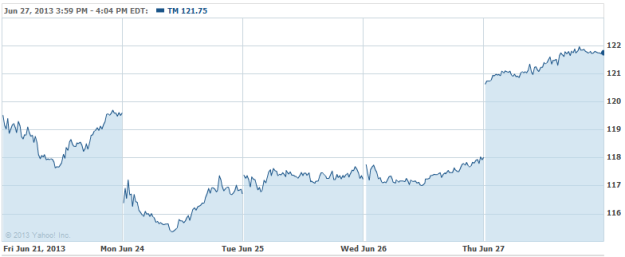 Honda Motor Co. (NYSE:HMC): Honda's next generation Odyssey minivan — yes, the one with the 'HondaVac' built into the back — will be available for just $150 or so more than the outgoing 2013 model in its base trim, Autoblog is reporting. Buyers still get the same 3.5 litre V6 with 248 horsepower, but Honda has heavily fortified the new van with a range of safety features and a new six-speed automatic transmission in all trims, revised exterior styling and a few tweaks to the instrument cluster and dash controls.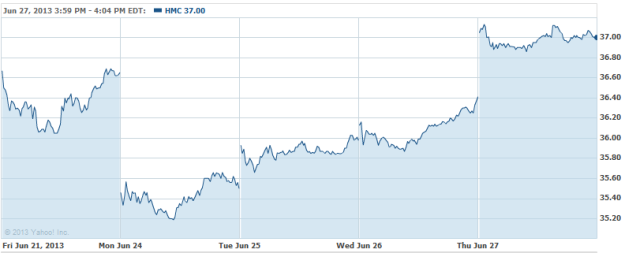 Don't Miss: GM: More Mula For Mexico.