3 Auto Stocks Going Places: GM Eyes Chinese Ramp, Toyota Leads Globally, Another Fire for Tesla
General Motors Co. (NYSE:GM): Though General Motors has been the largest automaker in China for the past eight years, Volkswagen (VLKAY.PK) has been hot on its heels, and it is forcing the Detroit-based company to ramp up its strategy in the country. Among General Motors's priorities is stronger competition in the SUV market, and it plans to have nine new models in the category over the next five years. Huge growth in the luxury segment will be paramount, as well, as GM is eyeing 100,000 in Cadillac sales in 2015, good for 10 percent of China's luxury market.
Toyota Motor Corp. (NYSE:TM): A falling yen has helped Toyota maintain its global sales lead by volume, outselling GM for the second time in three quarters; Toyota moved 2.5 million vehicles in the July-to-September period, up 2.8 percent from a year earlier, Bloomberg reports. GM came close behind, with 2.4 million vehicles sold, and Volkswagen rounded out the top three, with 2.33 million. Toyota sold 7.41 million vehicles compared to GM's 7.25 million and VW's 7.03 million for the first nine months of the year.

Tesla Motors (NASDAQ:TSLA): Some mixed news from Tesla on Monday: CEO Elon Musk sees sales of its Model S hitting the 10,000-unit sales mark in Germany by 2015, a current stronghold for a large portion of Tesla's primary competition. By the end of next year, Musk says that the company's charging network will blanket the country. Separately, another Model S fire has been reported, this time in Mexico; like the first, it occurred after a fairly severe accident, though the driver was able to make it away from the car safely.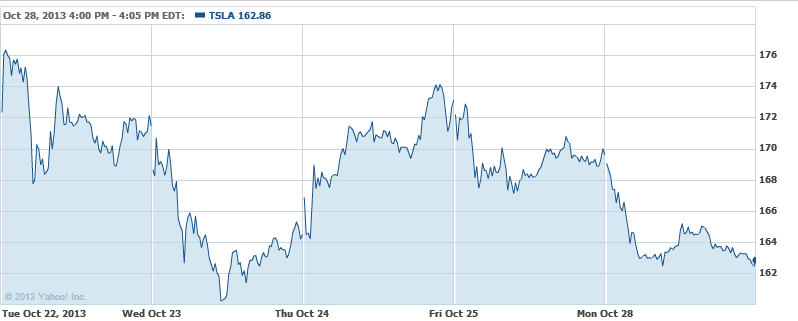 Don't Miss: 8 Cars With the Most Punch Under $30K.