3 Auto Stocks Going Places: GM Slows Investment in Peugeot, Tesla Issues a Recall, and Honda Settles Over Emissions Failure
General Motors (NYSE:GM): GM has said that it has no further plans to invest more money in PSA Peugeot Citroen, which the company shares costs to jointly manufacture cars in Europe. Peugeot Citroen has lost substantial amounts of money in the flailing European automotive market, amounting to $6.74 billion in 2012. "We don't have any intentions of investing additional funds into PSA at this time," said GM Chairman and Chief Executive Dan Akerson on the sidelines of an event in Shanghai. "If we see something change, we'll evaluate that. But right now we have a joint purchasing endeavor that is going to yield significant saving for us, and we are sharing platforms at three different architectures," he said.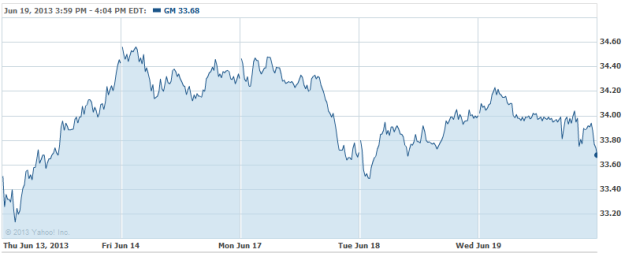 Tesla Motors (NASDAQ:TSLA): Tesla has issued a partial recall of its Model S sedans, stemming from a weakened mounting bracket on models built and delivered between May 10th and June 8th. CEO Elon Musk — who wrote the recall statement — pointed out that there have not been any customer complaints or injury due to the issue and no regulatory body has brought it to the company's attention, but that the fault "reduces our confidence that the left hand seat back will be properly retained in the event of a crash."
Honda Motor Co. (NYSE:HMC): Honda has settled its lawsuit over engines that failed to meet emissions standards, and has agreed to pay $580,000 over the matter, which involved 437,000 nonroad engines. Additionally, the company also sacrificed some of its carbon credits. The case was settled to avoid the costs of litigation, "as well as the business distractions that litigation brings," Honda said in a statement.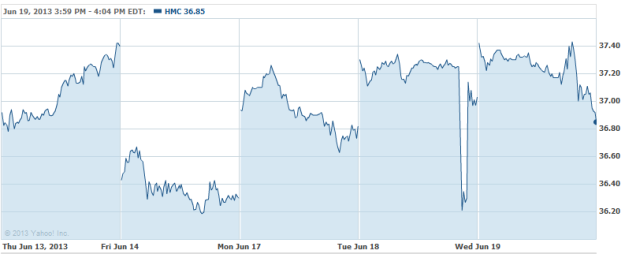 Don't Miss: Cadillac From the Future Pays Jay Leno a Visit.