General Motors (NYSE:GM): To avoid compromising quality for quantity, the CFO of GM has stated that the Cadillac luxury brand will not be pursuing a "volume at all costs" approach, which has become the norm for luxury car makers to bite as much market share as they can. Cadillac will instead work from the smaller model base that it has, and not try to match competitors' cars model-for-model. "Continuing to move down price points, and microsegmentation of all of these little categories, all seem to be driven by a sort of volume-at-all-costs mentality," CFO Dan Ammann said. "What that does long-term for brand health I think remains to be seen."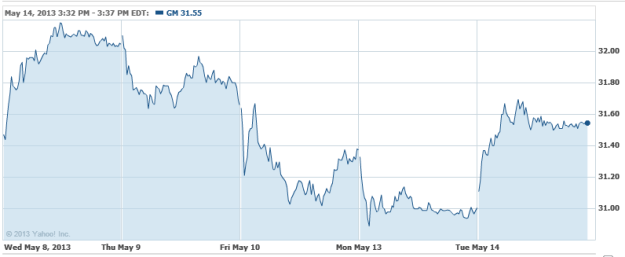 Tesla Motors (NASDAQ:TSLA): At 177 percent up since the beginning of the year, Tesla's meteoric stock rise has caused short interests to panic, investors to celebrate, and analysts to be cautiously optimistic, if not a little concerned. With its newfound valuation, Tesla must justify its market worth, something that it won't be able to do unless it can widen its margins dramatically. "The Tesla debate has moved on from questions of viability to measuring the success and sustainable competitive advantage of the business, triggering a dramatic compression of the stock's implied risk premium. To thoughtfully weigh the variables, we put our OW rating and target under review," said Morgan Stanley, which believes if the margins can improve to 20 percent, a stock price of $300 or more could be possible.

Honda Motor Co. (NYSE:HMC): In preparation for production of the new Acura NSX supercar, Honda is constructing a $70 million plant in Ohio, which will open in about two years. The car, which was seen in the Avengers movie (driven by none other than Tony Stark), is Honda's latest effort to jump into the sports car market once again, as the sport-side of the company seems to have fallen by the wayside. The facility will be Honda's third assembly plant in the state, and will employ about 100 veteran industry workers.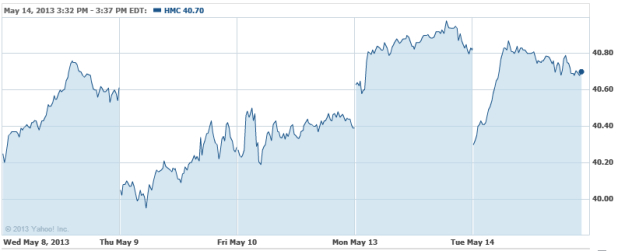 Don't Miss: Why Can't GM and Ford Compete in India?