3 Auto Stocks Going Places: GM's Chinese Success, Tesla's Next Generation, and Ford's Indian Market
General Motors (NYSE:GM): GM's partner in China SAIC Auto moved 404,655 vehicles in May, a 9.6 percent increase over the year prior, helping boost GM's strong Chinese results after decent — but not spectacular — domestic sales which were largely driven by the 23 percent uptick in truck sales. It's been a busy week for the automaker — separately, the Treasury will be shedding 30 million GM shares, and the company was welcomed back to the S&P 500.

Tesla Motors (NASDAQ:TSLA): Tesla is intending to launch its third generation EV in 2016, one that would sport a 200 mile range, feature a sedan-formatted body, and most crucially, clock in at about half the price of the Model S. Buyers can expect the next rendition of Tesla's electric drive train to be comparable to the offerings by Nissan or Toyota (NYSE:TM).
Ford Motor Co. (NYSE:F): The company has announced that it sold 5,993 cars in India for the month of May, as exports rose but domestic wholesales fell back for the month. Although a small number for such a populous country, the 18 percent rise in exports reveals that the market is picking up for the company, and likely putting rival firms such as Indian native Tata Motors on notice.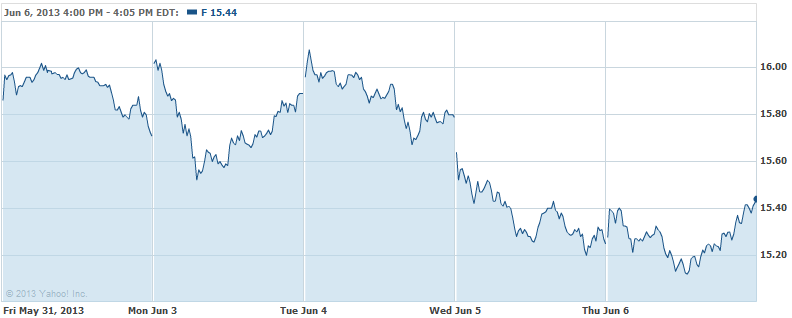 Don't Miss: GM's Latest Buick Is a Top Safety Pick.