3 Auto Stocks Going Places: GM's Latest Recall, Ford's UK Sales, and Tesla's Upgrade
General Motors (NYSE:GM): Although sales this year have been strong for the automaker, this year has been particularly harsh for recalls as well. GM has just announced yet another, which is applicable to over 38,000 vehicles spanning across the Chevrolet Malibu Eco, Buick LaCrosse, and Buick Regal sedans, for an issue stemming from the eAssist hybrid power train. A malfunctioning generator control module was pointed to for the cause, which can result in gradual loss of battery charge and activation of a malfunction warning light. If the driver ignores the warning the engine may eventually stall. The condition could also result in a burning or melting smell, and in rare cases, fires in the car's trunk.
Ford Motor Co. (NYSE:F): Ford must have been ecstatic to announce that new car sales across the pond in the U.K. have swelled almost 15 percent since last year to 163,357 units for the month of April, making it the strongest month in the region in 14 months. However, the strong performance is not indicative of the rest of Europe, which still remains mired in economic uncertainty.

Tesla Motors (NASDAQ:TSLA): As Tesla's shares continue to drive up (the stock as returned 76 percent year to date), Jefferies has accordingly raised its price target on the automaker, from $45 to $68 with the quarterly results looming on Wednesday. Jefferies believes that the company will make earnings of $0.01, up from its previous estimate of -$0.01. However, full-year EPS for 2013 from $0.23 to $0.31, and full year for 2014 from $1.54 to $1.64.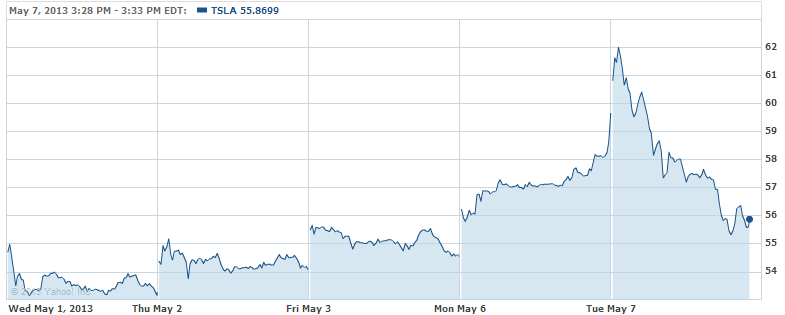 Don't Miss: Will Ford Change Everything After These Bumbled Launches?