3 Auto Stocks Going Places: Honda's Got a Good Feeling, GM Helps Where It Can, and Tesla's Musk Takes To Twitter (Again)
Honda Motor Co. (NYSE:HMC): The Japanese auto maker is forecasting stronger sales for April this year over 2012, according to company officials. "We're confident that April is going to be a strong month," Mike Accavitti, vice president of automobile marketing for Honda's American outfit, said. The Honda nameplate is pegged to grow between 5 and 6 percent, while Acura is planned grow as well, by 10 or 11 percent. The company has been using refreshed and new models to drive growth, and many are leading their segments.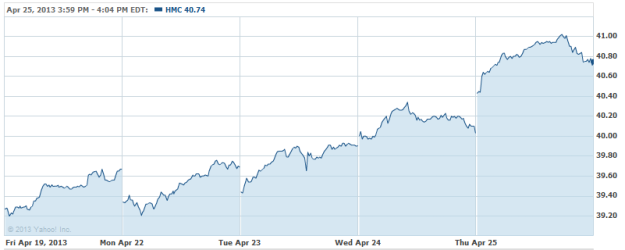 General Motors (NYSE:GM): Now that it's brought its numbers back up, Asia has been enthusiastically welcoming its vehicles, and the U.S. market is also treating it well, General Motors has set about doing some good will around town. The company has donated $100,000 to the Red Cross through the General Motors Foundation, to be used specifically for aid pertaining to the explosion at a Texas-based fertilizer plant. The explosion registers a 2.1 on the Richter scale, and left 14 people dead (along with 200 wounded).

Tesla Motors (NASDAQ:TSLA): CEO Elon Musk has made a habit of putting cryptic messages on his Twitter feed, and he has just done it again. On Thursday, he announced that on Friday, Tesla will reveal a new strategy, and that "Tesla owners will like this" — and, in true Elon form, didn't say anything else, leaving observers to speculate. Whatever it may be, lets just hope he learned his lesson from the last pre-announcement Twitter debacle that left him defending Tesla's new financing plan to public outcry.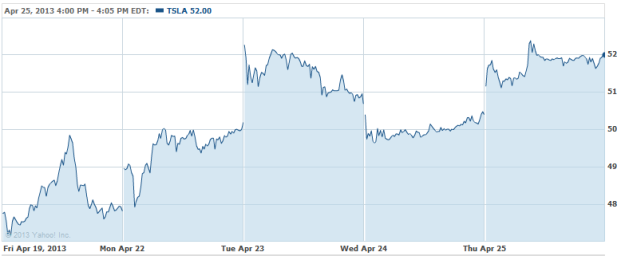 Investing Insights: Can Toyota Continue This Bull Run?