3 Auto Stocks Going Places: Honda's Latest Recall, Ford's Unusual Partnership, and GM's Foray Into Diesel
Honda Motors (NYSE:HMC): Recalls seem to be an underlying theme so far in 2013, as Honda has just announced another, amounting to some 204,000 vehicles split between the Honda and Acura nameplates. The affected vehicles cover the 2012 Honda CR-V and Odyssey minivan, and the 2013 Acura MDX SUV. The National Highway Traffic Safety Administration noted that "the brake-shift interlock blocking mechanism may become slow and allow the gear selector to be moved from the Park position without pressing the brake pedal," or in layman's terms, your call might roll away on its own. However, this condition may only occur in sub-zero weather, the NHSTA said, but it's probably better to err on the side of safety. Honda is alerting owners of the afflicted vehicles, which will be taken care of free of charge.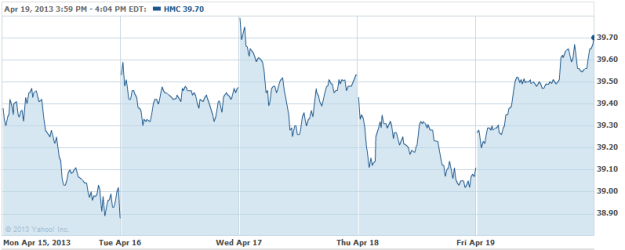 Ford Motor Co. (NYSE:F): Ford is partnering with KB Home, to spur excitement for energy efficiency among homeowners who also drive hybrid vehicles. The partnership does not involve financial considerations, but instead, executives at both companies "acknowledge the potential for appealing to each other's environmentally conscious customers." Michigan Live reported. "It's about increased sales, but also how we demonstrate to customers that there's real value in each and every house," said Dan Bridleman, senior vice president of sustainable technology and purchasing at KB Home. Using a database provided by Ford, net-zero homes build by KB can now suck more power when electricity rates are at their lowest, the article explains. This includes Ford's plugin vehicles, as well as appliances inside the home, such as refrigerators.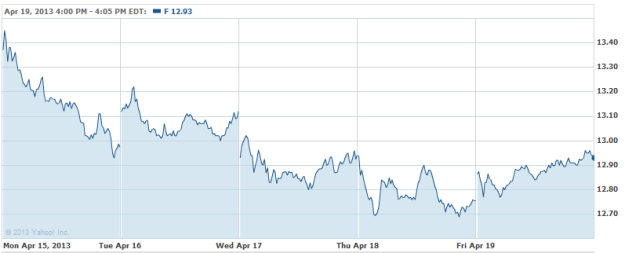 General Motors (NYSE:GM): As diesel technology begins to find its niche in the U.S., spurred by higher mileage than its ordinary petrol-driven counterparts, Chevrolet is jumping in the game and putting a diesel unit in one of its most popular cars, the compact Cruze. GM states that the car will achieve 46 miles per gallon on the highway, and 27 in the city — respectable numbers, but not a giant leap for a car of its size. Priced at $25,695 when it's due to drop this summer, the car puts a $5,000 premium over the Cruze Eco, which is on sale now for $20,490 and returns 28 miles per gallon city, and 42 on the highway. Plus, you won't have to pay the premiums for diesel fuel.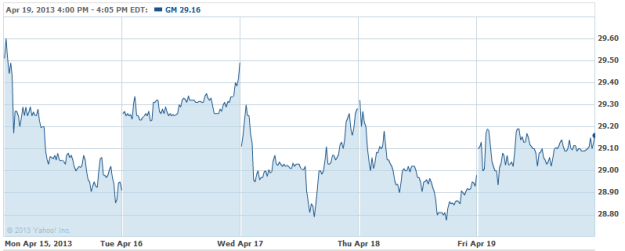 Don't Miss: Will Ford's Mustang Be America's Darling Once Again?