3 Auto Stocks Going Places: Tesla Bounces Back, GM Ponders a Better SS, Toyota's Fuel Cell Foe
Tesla Motors (NASDAQ:TSLA): "This experience does not in any way make me think that the Tesla Model S is an unsafe car. I would buy another one in a heartbeat," writes the owner of the Tesla involved in last week's accident-turned-fire, which was later published on Tesla's blog. Shares are back in the green after a sizable drop, as the latest accident combined with what some saw as disappointing third-quarter results and caused the volatile shares to plunge.

General Motors Co. (NYSE:GM): Though the vehicle hasn't reached dealers yet, Chevrolet is reportedly tossing around the idea of a more juiced-up version of the Chevy SS, its high-performance sedan slated for next year, if there turns out to be enough demand for one. Already boasting a 415-horsepower 6.2-liter V8, speculation is suggesting that General Motors could bring over the 455- or 580-horsepower versions that are currently available in Australia.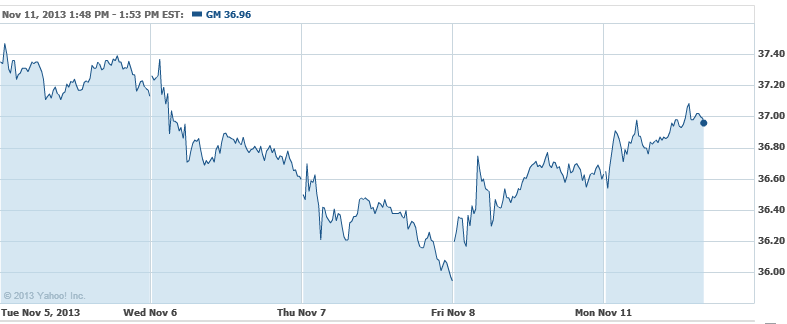 Toyota Motor Corp. (NYSE:TM): Toyota took the auto world by surprise when it said that it would have a production-ready, hydrogen fuel-cell vehicle on public roads by 2015, and it appears it will have a competitor in that space even sooner: Hyundai has announced that it is readying a fuel cell electric crossover for a U.S. debut next year, accelerating the race to find viable alternatives to conventional gasoline-powered cars.

Don't Miss: 7 High-Tech Automobiles Worthy of 2014.