3 Auto Stocks Going Places: Tesla Sees Big Market in Hong Kong, GM Looks to Indonesia, and Toyota Rethinks China Strategy
Tesla Motors (NASDAQ:TSLA): Tesla has reported that early demand in Hong Kong shows encouraging signs that its Model S sedan will do in the Asian market, as the automaker says it's received hundreds of orders for its new car, enough to double the number of electric cars on the roads of Hong Kong. Impressively, the company has not yet even set a price for the vehicle yet.

General Motors (NYSE:GM): GM would like to see its recent success in America translated overseas, where it plans to jack up sales in Indonesia by offering its simple, no-nonsense Spin model. The Spin, a van with three rows of seats and costs around $14,360 in the surging Indonesian auto market, will allow GM to compete more effectively with Toyota's (NYSE:TM) Avanza and Nissan's Livina.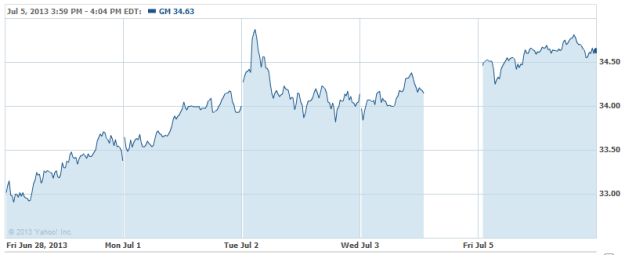 Toyota Motor Corp (NYSE:TM): Given that anti-Japan sentiment hasn't receded as fast as anticipated. Toyota is looking to seriously shift its strategy in China, and instead focus its sales efforts in regions in China where there is less resentment against the company. "Our feeling is why spend money to overcome the bias against Japanese products in northern China?" a Toyota executive said.