3 Auto Stocks Going Places: Tesla's Battery Effort, Toyota's Lofty Lexus Sales, GM's Small-Truck Resurgence
Tesla Motors (NASDAQ:TSLA): Tesla is apparently in negotiations with South Korean firms LG Chem and Samsung SDI to help supply it with the needed batteries for its cars, though Tesla's vice president of investor relations, Jeff Evanston, acknowledged that it would take several years before other companies — in addition to Panasonic, its current supplier — were qualified to supply batteries to Tesla. The news comes shortly after Tesla expanded its agreement with Panasonic.

Toyota Motor Corp. (NYSE:TM): Toyota says that it's expecting its Lexus luxury division to hit a global sales record this year to "finish on the north side of 520,000," just pushing past Lexus's all-time high of 518,300 units in 2007. With the addition of a compact crossover and the RC coupe, Lexus only expects its volume to grow further as U.S. auto demand makes a stronger recovery; Lexus outpaced the broader market at 12 percent, to the industry's 8 percent, through October.

General Motors Co. (NYSE:GM): While Toyota has the small-truck market neatly sewn up right now with the Tacoma, GM is about to give the segment another shot, as it will be unveiling a redesigned Chevrolet Colorado at the Los Angeles Auto Show that starts on Wednesday. The Colorado will be aimed at buyers in California, one of the Tacoma's largest markets and the biggest market for midsize trucks, with 16 percent of registrations this year through September, according to Edmunds.com.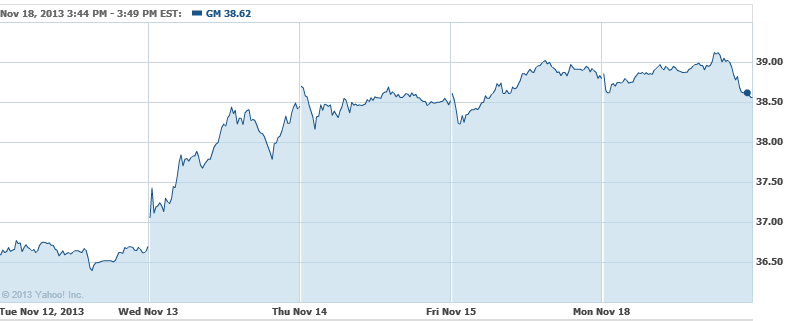 Don't Miss: Tesla Who? The Detroit 3 Rise in California.