3 Auto Stocks Going Places: Tesla's Musk to Make D11 Appearance, Ford Hits A High Note, and GM's Latest Impala Makes an Impression
Tesla Motors (NASDAQ:TSLA): As shares recede somewhat after yesterday's surge into triple digits, CEO Elon Musk is due to take the stage on Wednesday at the AllThingsD digital conference. An announcement regarding Tesla's supercharger network is now fashionably overdue, adding more reason to keep all eyes on Musk who might toss investors a bone during today's talk.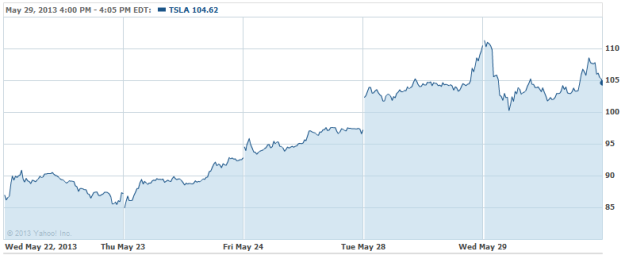 Ford Motor Co. (NYSE:F): Shares of Ford have reached 52-week high points, signaling that investors are not terribly concerned with the dismal market conditions in Europe, or the company's limited exposure in China, widely regarded as the world's largest automotive market. The company has added $50 billion in market value since hitting a 52-week low of $8.82, while shares are now trading at the $15.30 range. The performance isn't entirely unexpected or surprising, as the company has also outperformed its rivals fairly consistently year-to-date.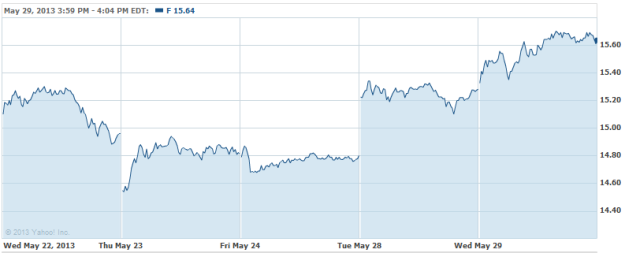 General Motors (NYSE:GM): An optimistic blessing from Consumer Reports indicates that the Chevrolet will no longer be the default fleet vehicle that it has become, and that the 2014 model promises to be much more than that. However, buyers looking to own the car will have to pay a premium over the fleet-like prices of the past: the new Impala starts at over $26,000, and once fully equipped (as the model CR tested was), the tag had ballooned to nearly $40,000.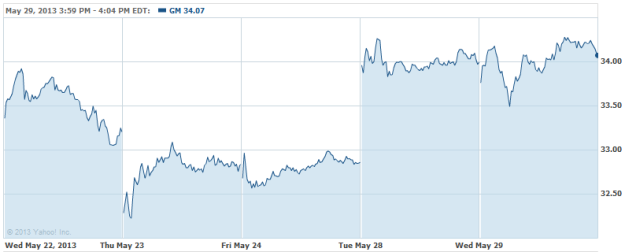 Don't Miss: Will The New Chrysler 200 Make Good On Fiat's Investment?