3 Auto Stocks Going Places: Tesla's Questionable Subsidies, Ford's France Agreement, and GM's Onstar Worth
Tesla Motors (NASDAQ:TSLA): An opinion piece published in The Wall Street Journal attempts to break down Tesla's last quarterly earnings, and makes the argument that the company was built on taxpayer funding, citing the $7,500 government rebates, zero emissions credits, and the Department of Energy loan. However, a couple crucial points were significantly overlooked: other manufacturers making electric vehicles can also take advantage of the same programs, that the credits were around before Tesla was, and that Tesla has plans for a more affordable car. The piece also compares Tesla's Model S sales to those of Ford's (NYSE:F) F-150 — a more polarizing opposite would be hard to find.

Ford Motor Co. (NYSE:F): After striking a deal with French local authorities, Ford has agreed to keep 1,000 workers at its plant in southwest France. Under the deal, the automaker will share the burden of investments with the local authorities to keep the plant running. Ford is investing $165 million or so to produce a next-generation gearbox for compact cars in Europe, and in exchange, France guarantees to retain workers for five years.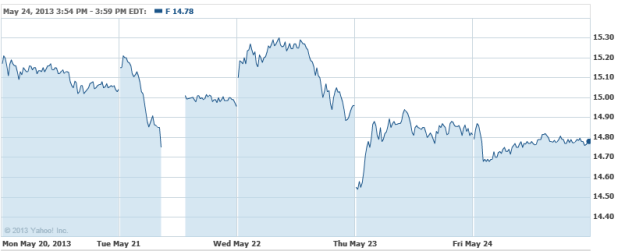 General Motors (NYSE:GM): In the event that strong auto trends fall short of expectations, GM could be sitting on a tool to help maintain shareholder value: a recent study by Citigroup has revealed that the connectivity value of the Onstar service from the automaker makes the asset worth close to $8 billion to $10 billion. Though the idea of spinning Onstar off has been swirling around for years, it provides an ace up GM's sleeve.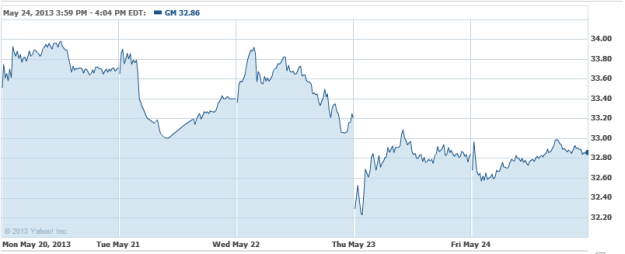 Don't Miss: Here's Why Ford Is Saying Cheerio to Australia.