3 Auto Stocks Going Places: Toyota Corolla Gets Priced, Honda's Big Recall, and New Grid May Help Tesla
Toyota Motor Corp. (NYSE:TM): Toyota's newly redesigned Corolla compact sedan will start at a base price of $16,800, Autoblog is reporting. The cost does not include the $810 destination charge. The Corolla will be offered in four trim levels, starting with the base L equipped line, a fully loaded model with all the optional gizmos clocking in at just shy of $24,000.

Honda Motor Co. (NYSE:HMC): Honda's Chinese unit will be recalling 400,000 units as the result of faulty piston rods, according to a Chinese watchdog service. Dongfeng Honda Automobile Co. will recall a total of 408,069 CR-V sport utility vehicles due to a possible fracture in the piston rods for shock absorbers, Reuters reports. The CR-V is one of the 10 best-selling SUVs in the country.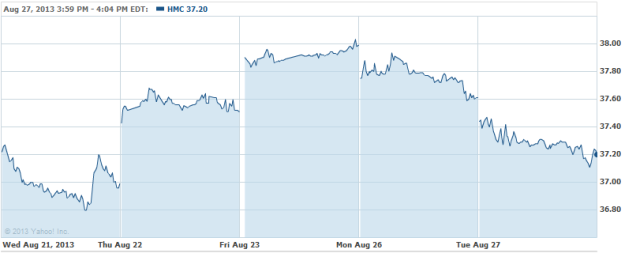 Tesla Motors (NYSE:GT): "Total fast-charging stations for EVs are set to reach 199,000 locations globally in 2020, up from just 1,800 in 2012," IHS said, adding: "The number of these stations, meanwhile, is anticipated to rise more than threefold in 2013 to 5,900, and then nearly triple to 15,200 in 2014. Overall growth will continue at a rapid pace through 2020." Good news for Tesla, though until there's a charging system standard set in place, the true beneficiary is anyone's guess.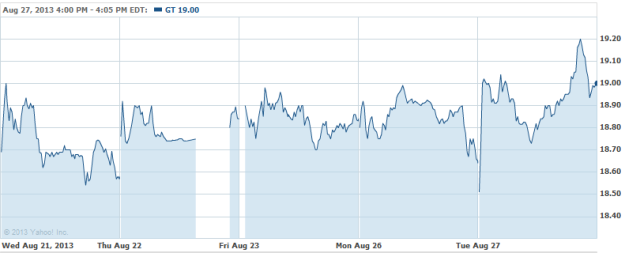 Don't Miss: Here's Why Certain Californians are Getting a Discount on Toyota's RAV4.