3 Auto Stocks Going Places: Toyota Eyes 10 Million, Another Honda Recall, and Tesla Rides the Short Wave
Toyota Motor Corp. (NYSE:TM): Toyota has its eye on the 10 million unit sales milestone for the 2013 year, and believes it has the means necessary to become the first automaker in history to break such a barrier. A new R&D strategy on behalf of CEO Akio Toyoda would put the company back in gear for growth, following four years of crisis and hardships. TNGA, or Toyota New Global Architecture, a new approach that focuses on simultaneous development of multiple models and massive use of common modular components to delivery more vehicles for less, and more rapidly.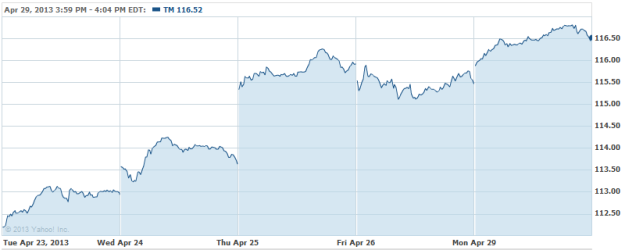 Honda Motor Co. (NYSE:HMC): On the heels of a recall for select models from the Honda and Acura lines, Honda has put out another, this time for the 2012 and 2013 model years of the Fit model. Reportedly, the company has issued a code for 46,000 vehicles, to fix a glitch in the electronic stability control system software. The bug may cause the cars to tilt too far in sharp turns, and therefore increase the likelihood of losing traction. Honda says it is not aware of complaints or incidents as a result of the issue, and is covering the charge of the software upgrade for the affected vehicle owners.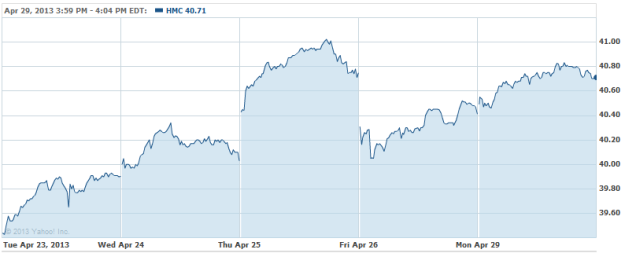 Tesla Motors (NASDAQ:TSLA): Short sellers appear to be getting battered by Tesla's stock run, which on Monday has rallied again over 5 percent, putting its year-to-date growth at 57 percent — roughly 5 times the return for the S&P 500. CEO Elon Musk is understandably delighted by the news, tweeting "Seems to be some stormy weather over in Shortville these days," last week. As of April 15, the number of Tesla shares sold short was 30.695 million. That was down from 31.3 million March 28, according to FactSet data.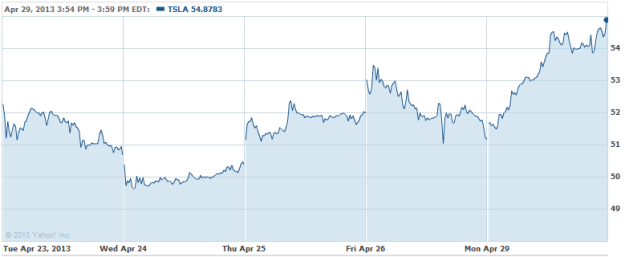 Don't Miss: GM's Corvette Stingray: The Name's Deadlier Than the Price.