3 Auto Stocks Going Places: Toyota Issues a Recall, Ford's Mustang Trumps the Camaro, and Tesla's Model S Through Glass
Toyota Motor Corp. (NYSE:TM): While the industry has been largely distracted with sales numbers, Toyota has issued a glonal recall for 185,000 vehicles, including the compact Yaris model due to a glitch in the electric power steering system. As a result, the steering could feel noticeably heavier, though the company reports no accidents have happened because of this glitch.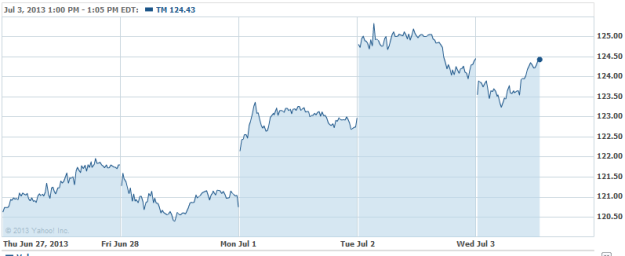 Ford Motor Co. (NYSE:F): Strong sales, led by the best selling F-series pickup truck, have led Ford to substantial gains during the month of June. As impressive as the F-series sales were (up 20 percent), the Mustang has – for the second month in a row – taken the sales crown from the long-dominating Chevy Camaro. Ford sold 10,263 Mustangs, a tally that fell 9.9 percent compared with the same month last year, but Camaro sales fell to 7,236, down by more than twice the margin at 20.7 percent.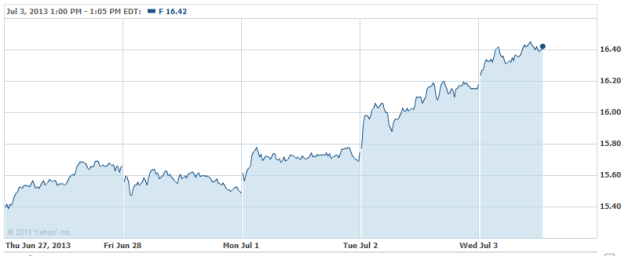 Tesla Motors (NASDAQ:TSLA): Tesla's Model S is a revolutionary vehicle in many ways, and it appears the company is continuing to break the mold. In addition to the smartphone apps that sync with a user's car, Google (NASDAQ:GOOG) is working on a Glass app that would allow the user to remotely control the starting and stopping the charging of cars, check the battery level, lock or unlock doors to the car, and even adjust the vehicle's temperature settings.