3 Auto Stocks Going Places: Toyota's Profit Bump, Tesla's Latest Report Card, and GM's Boosted Safety Net
Toyota Motor Corp. (NYSE:TM): Though its midsize sedans are losing steam against American competition, Toyota had itself a great quarter, with net profits of 313.9 billion yen, beating by 50.1 billion. Revenue clocked in at 5.837 trillion yen, while operating profit remained a healthy 502.3 billion. The weakening yen, Prime Minister Shinzo Abe's successful efforts to increase exports, allowed Toyota to rack up an operating profit of 1.32 trillion yen, the first time that the figure has passed the 1 trillion mark since the recession. (Note: 1 yen = $0.01.)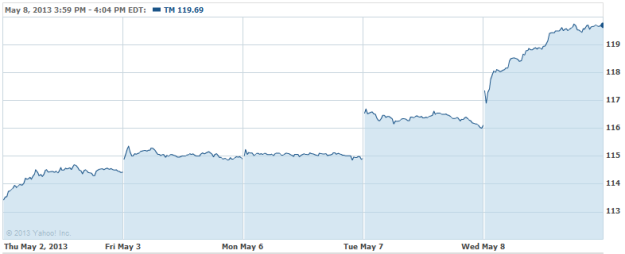 Tesla Motors (NASDAQ:TSLA): Shares of Tesla are ripping in after-hours trading, following the report of the company's first profitable quarter. The company exceeded its own expectations for deliveries, with record sales of $562 million and 4,900 vehicles delivered. Gross margin doubled to 17 percent, while Tesla's cash balance increased, despite a loan payment to the Department of Energy.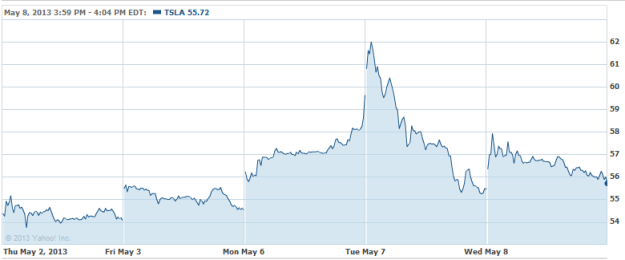 General Motors (NYSE:GM): GM has announced that it will be raising its warranties on pre-owned vehicles behind the Cadillac emblem, as an added benefit to attract more buyers. Cadillac spokesman David Caldwell said Monday the coverage is more comprehensive than what is offered by rivals BMW, Lexus (NYSE:TM) and Mercedes–Benz, although Cadillac offers more mileage under their policies. Cadillac will transfer the warranty to a new owner, provide 24-hour roadside assistance, and offer courtesy transportation if the car is undergoing warranty-related repairs. See the latest on GM's new Corvette…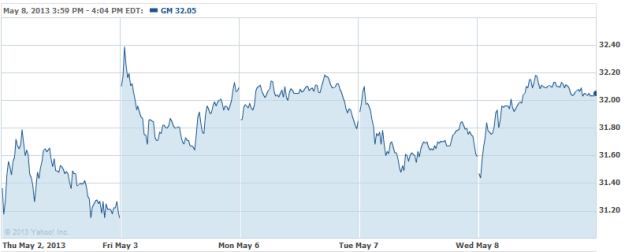 Investing Insights: Does This Economic Environment Favor Toyota?