3 Auto Stocks Seeing Action: Ford's Chinese Push, Honda Aces IIHS Tests, Toyota Ups Its Hybrids
Ford Motor Co. (NYSE:F): Ford has made a few changes to its mid-sized Mondeo model in China to generate more appeal for consumers in the world's largest auto market. Ford has made some improvements to the seat adjustments, changed the shape of the taillights, and added LED headlights to the car. The company is trying to reach for 6 percent of China's market share by 2015, making the success of models like the Mondeo especially crucial.

Honda Motor Co. (NYSE:HMC): The 2014 Honda Odyssey has become the first minivan to pass the Insurance Institute for Highway Safety's (or IIHS) strict crash test and garnered praise from the organization for its design features. The tests included the small frontal overlap trial, among the most common and deadliest of accidents. The Odyssey scored a 'Good' rating overall.

Toyota Motor Corp. (NYSE:TM): Toyota will be playing with the battery packs in its next hybrid vehicles to deliver  "significantly improved" fuel economy as Toyota is "very motivated" to continue improving its Prius mileage after boosting fuel economy by about 10 percent with second- and third-generation models. Toyota is hoping to move 250,000 Prius units this year.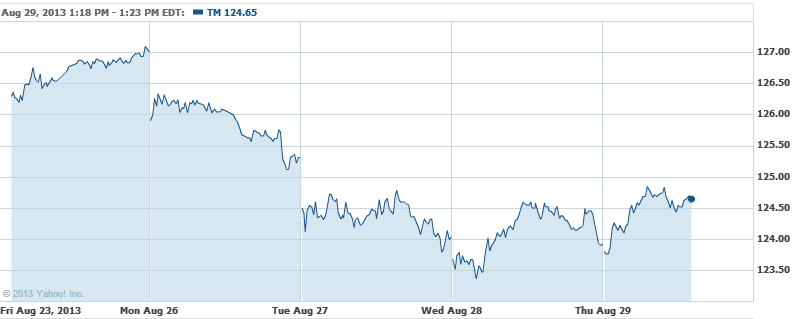 Don't Miss: Ford's Lincoln Embarks on a Long Road of Reinvention.