3 Reasons Why Tesla Motors Isn't a Loser
Elon Musk can't seem to resist an opportunity to return fire whenever Tesla Motors (NASDAQ:TSLA) is criticized. As founder and CEO of the electric-vehicle maker, Musk has become a public figure notorious for directly challenging negative reviews of his company's Model S or Roadster vehicles.
So on Friday, when Former Alaska Governor Sarah Palin wrote about how "the Obama-subsidized Tesla that turns into a 'brick' when the battery completely discharges and then costs $40,000 to repair" is a loser, followers of the company knew a response was coming. Palin was commenting on a category of companies that have been the recipient of green-energy loans from the government and subsequently went bankrupt, like Solyndra has and Fisker is expected to. (Here's a link to the story Musk links to.)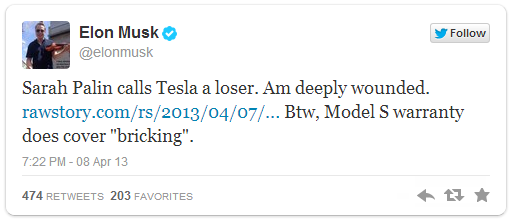 No surprises here, but in the spirit of the conversation, here are three reasons why Tesla may not belong in the same category as other green energy loan recipients.
1) Accelerated loan repayment
In February, Elon Musk and Secretary of Energy Steven Chu announced that Tesla would repay its loan from the DoE five years early, twice as fast as required under the original 2010 loan agreement. Tesla was the recipient of a $465 million loan from the Advanced Technology Vehicle Manufacturing Program at the DoE, which was signed into law by President George W. Bush. The purpose of the program was to accelerate the market for promising new automotive technologies, and particularly for electric-vehicles.
Tesla's loan was the smallest under the program, which issued loans to automakers like Fisker and Nissan (NSANY.PK) , which is working on an electric car called the Leaf. Ford (NYSE:F) received a loan for $5.9 billion. According to the Loan Programs Office, Ford "is using a $5.9 billion loan to upgrade factories across Illinois, Kentucky, Michigan, Missouri, and Ohio and to introduce new technologies that will raise the fuel efficiency of more than a dozen popular vehicles. The project will convert nearly 33,000 employees to green manufacturing jobs"…
2) Model S sales exceed target
On March 1, Tesla reported that sales of its Model S vehicle exceeded the target provided in a mid-February letter to shareholders. The company sold 4,750 units versus a target of 4,500. The big news is that as a result of this, the company upwardly-revised its first-quarter guidance to full profitability under both GAAP and non-GAAP.
Here's why that's so important:
| | | | | | |
| --- | --- | --- | --- | --- | --- |
| Quarter | Dec. 31, 2011 | Mar. 31, 2012 | Jun. 30, 2012 | Sep. 30, 2012 | Dec. 31, 2012 |
| Revenue ($) in millions | 39.38 | 30.17 | 26.65 | 50.10 | 306.33 |
| Diluted EPS ($) | -0.79 | -0.86 | -1.00 | -1.05 | -0.78 |
The stock movement is pretty jumpy, but shares are up 26 percent year over year, returning more than the S&P 500 — and if there's one thing that's good for a stock, it's profitability. Tesla is due to report earnings next on May 6.
3) Tesla is more than just the Model S
Just to make sure everyone knows it's on the table, the Model S won Motor Trend's coveted 2013 Car of the Year aware unanimously. This is the closest thing to a golden ticket that a vehicle can receive. The car has won the respect of nearly every person who has driven one. There are people who were less than impressed, usually unhappy with some aspect of the battery or range expectations, like Palin.
That said, Tesla is more than the Model S or Model X, and it is definitely more than the Roadster — a BEV sports car that is no longer in production. Tesla's major achievement is the design and development of a competitive electric powertrain. This technology alone grounds Tesla in a much more significant way than if it were only a car manufacturer. Already, major manufacturers like Mercedes-Benz are using Tesla's powertrain designs in their electric vehicles.
Don't Miss: Ford and GM Brag About This Weeks Car Sales Data.