325 Chrysler Employees Idled as Dodge Fights to Balance Dart Inventory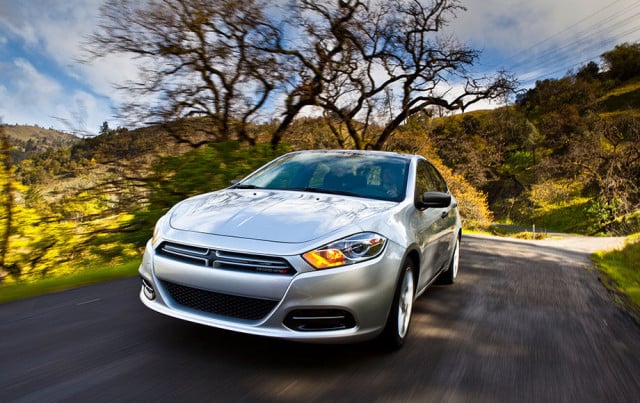 Dodge's (FIATY.PK) most recent stab at the small sedan market hasn't exactly resonated with consumers, as buyers continue to gravitate toward more conventional and mainstream options like the Corolla, Cruze, or Civic. Due to the slow uptake of the Dart, Chrysler is idling 325 workers for a week at its plant in Belvidere, Illinois.
A spokeswoman who confirmed the layoffs on Tuesday to Automotive News said to the publication that the actions were taken "in order to balance vehicle supply with current sales demand." The cuts were put into effect on Monday across the plant's three shifts.
The plant also manufactures the Jeep Compass and Patriot, sales for which have risen 22 percent and 4 percent, respectively, this year through February. However, the Dart has only surpassed 8,000 monthly sales twice since its introduction, in March and April of last year. This past month, dealers moved only 4,888 Darts, sliding 37 percent from the same month a year earlier.
This means Dodge is running at a 125-day inventory supply of the small cars, which is about twice the desired figure. Sales for this year to date are a third lower than in the first two months of 2013, according to Automotive News. Even Chrysler Group CEO Sergio Marchionne — also the CEO of Fiat SpA and the soon-to-be chief executive of Fiat Chrysler Automobiles — said the car doesn't have the right transmission and that it has "too much content for the compact car segment," Automotive News reports.
Further, even the dealers are complaining that the compact sedan doesn't have the cozy margins offered by other vehicles in Dodge's lineup. The car was the first project to be worked on jointly between Fiat and Chrysler.
"What's going on now with the Dart is that when buyers go into a Dodge showroom, they are getting such great incentives on the Dodge Avenger that buyers are choosing the larger car," Dave Sullivan, an auto analyst for AutoPacific, told the Rockford Register Star.
Additionally, Chrysler is trying to move its inventory of 200 sedans to make way for the new 2015 model, which is due later this year. All said and done, the Dart hasn't been able to overcome the aggressive incentive activity on the other Dodge models.
"The Dart is a more advanced car than either the Avenger or the 200, but buyers react to incentives," a regional dealer manager told the Star.
More From Wall St. Cheat Sheet: