5 Blazing Fast Under $25K Cars for One Hot Summer
It's a sizzling summer in many parts of the U.S., yet drivers see it as the ideal season to burn up the road in fast cars. The reasonable gas prices in places like Arizona offer even more incentive for speed demons to get their fix. Yet is it really possible to do some high-speed cruising on a budget? These five blazing fast cars all come in below $25,000.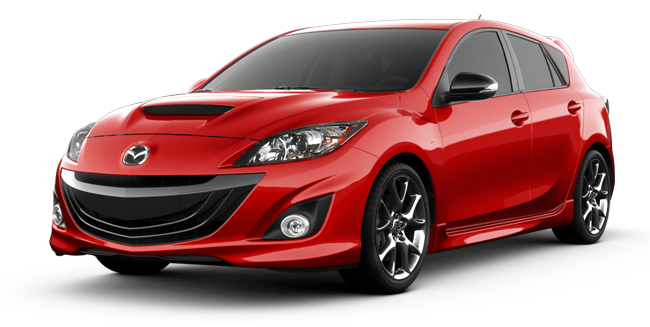 5. 2013 MazdaSpeed3 ($24,200)
This hot hatch from Mazda (MZDAY.PK) has a 2014 edition heading consumers' way later this year, but this year's model comes in below $25,000 (the 2014 model's price is pending). It features a 2.3L turbocharged 4-cylinder engine that generates 263 hp at 5,500 rpm with 280 lb-ft of torque. This car can easily break 1oo mph and has been tested going 0-60 in 5.6 seconds.

4. 2013 Ford Focus ST ($23,700)
The 2013 Focus ST by Ford (NYSE:F) takes off at an even faster clip for a hatch under $25,000. Packing a 2.0L 4-cylinder engine, the 2013 Focus ST generates 252 hp with 270 lb-ft torque. With a slightly lighter frame than the MazdaSpeed3, the Focus ST has beaten the Mazda on the track with a more consistent top speed, and it can blast from 0-60 in 5.9 seconds.

3. 2013 Volkswagen GTI ($24,200)
A quick search for this hot hatch by Volkswagen (VLKAY.PK) tells speed demons all they need to know: "Volkswagen GTI – 6.8 Seconds from 0 to 60," reads the top result. Its 2.0L turbocharged engine produces 200 hp with 207 lb-ft of torque. It's a 2-door, though the 4-door option still comes in below $25,000 with the same engine.
2. 2012 Mini Cooper S ($24,750)
This Mini sports a 1.6L 4-cylinder, 16-valve engine that delivers the goods in a small package. BMW (BAMXY.PK) gives its compact line a solid core: its engine generates 181 hp with 177 lb-ft torque, taking 6.5 seconds to go 0-60. This two-door Cooper S is as easy to park in town as it is fast on the highway.
1. 2014 Ford Mustang V6 ($22,200)
Never to be outdone in terms of muscle, the base model Mustang can generate 305 hp on 280 lb-ft torque with its 3.7L V6 engine. Estimates of the 2014 Mustang's 0-60 potential put it at 5.2 seconds with the performance package, and in the mid-to-high 5 second range in the standard package, which comes in well below $25,000. The Mustang can hit top speeds around 120 mph.
For drivers that equate steaming temperatures with speed on the highway, these five cars will let you burn up the road all summer long. For less than $25,000, there is even more reason to move while gas prices remain reasonable.