5 Facts: All You Need to Know About Tesla's Superchargers
Tesla Motors (NASDAQ:TSLA) CEO Elon Musk took center stage at the D: All Things Digital technology conference on Thursday and unveiled his plans to triple the automaker's Supercharger coverage area this month. Musk also promised that by the end of 2013, Tesla car owners will be able to drive from Los Angeles to New York using only Superchargers.
It sounds like a good deal to just about any driver, and especially to overly mobile ones. But as with all cases, consumers want to know the facts before signing their names on the line. Here is all you need to know about the Tesla Supercharger:
1. What is a Supercharger?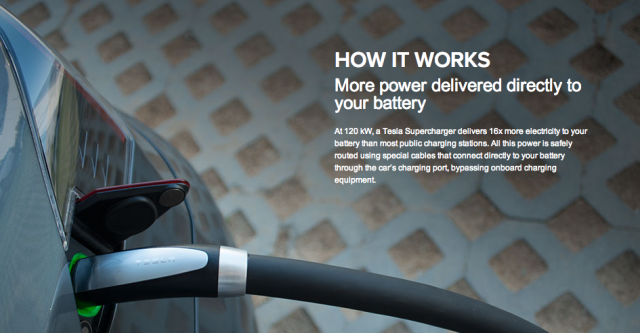 Let's start with the basics. A Supercharger performs the same function that a Tesla owner's ordinary electric current at home does, but it serves to ameliorate the stress users may face when driving far distances across cities, fearing that their vehicle will run out of power. Superchargers provide a full charge in a little under an hour, and are strategically placed between cities and well-traveled highways to allow owners to drive from station to station with minimal stops and little anxiety.
2. Where and when can I find one?
Superchargers are currently being constructed across all major interstates throughout the country and in between cities. While there are currently eight stations available, this number will be more than tripled this summer when Tesla will boast of 27 stations. The first batch of new stations will pop up in California,  Washington, Oregon,  Texas, Illinois, and Colorado. In the fall of 2013, most metropolitan areas in the United States and southern Canada will be populated with Superchargers, expanding even further by winter 2013 when coast-to-coast travel via I-80 will be possible. Within two years, Tesla plans to have the entire continental United States within range of a Supercharger.
The planned Supercharger network at the end of this winter: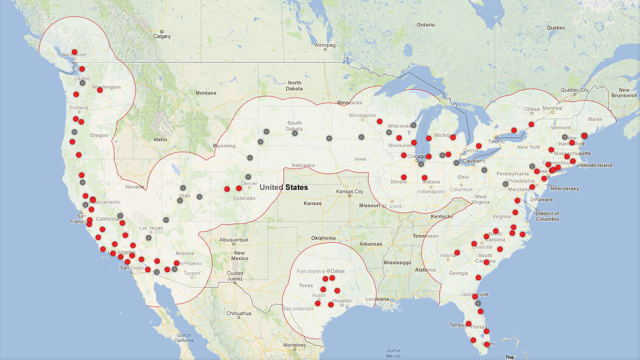 3. What does it cost?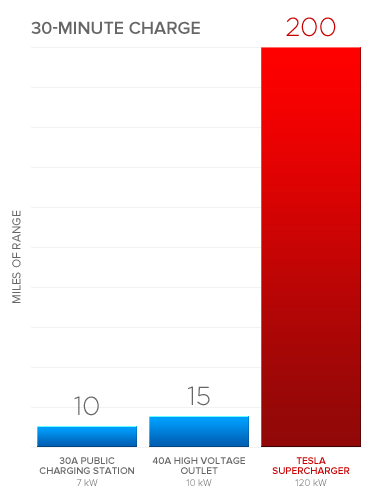 Okay, so what's the catch? Is it the cost? It doesn't appear so. The cost of energy per kilowatt hour for the Tesla Model S is $0.11, compared to the national average for gasoline at $3.80 per gallon. Thus, if you're comparing the Model S to a premium Sedan that averages 22 mpg, as Tesla does on its website, a 30,000-mile trip would cost a Model S driver $934, while it would charge $5,182 in fuel to a sedan owner. In addition, Superchargers will be free to use for the life of Model S.
4. How many charges between LA and NY?
Tesla maintains that by the end of 2013, Tesla owners will be able to drive from LA to NYC using only Superchargers, but how many stops does that entail? According to Bloomberg, a Tesla driver could cover this distance with fewer than 20 stops at charging stations, compared to a traditional car with a 400-mile range, which would require at least seven tanks of gas.

5. What else can this Supercharger do?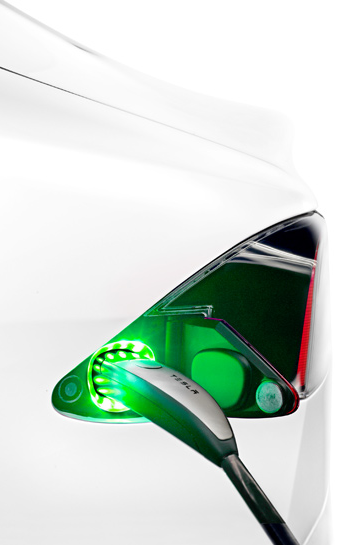 Musk announced on Thursday that Tesla was already working on improvements to its Supercharger technology. It is focusing its efforts on increasing the driving time a 20-minute charge gives a vehicle, hoping to get up to three hours. The new system is currently in "beta test" according to the automaker's CEO.
There is a bad thing. Tesla is keeping the Supercharger to itself, which means that drivers of other all-electric cars, such as Nissan's Leaf, won't be able to use this facility.
Don't Miss: How Is Honda Sweetening the Deal for its Electric Fit?