5 Reasons Why GM Is the Latest Comeback Kid
So far, it's been a good summer for General Motors (NYSE:GM). It wasn't long ago that the U.S. automaker was only treading above water as it lugged around its "Government Motors" snub and worked to rebound from its $49.5 billion bailout. But thanks to new management and a new fleet of vehicles, the U.S. automaker has managed to turn things around, posting headline after headline of optimistic news this summer as it rejoins the Standard & Poor 500 and lets investors, the U.S. Treasury, and even President Barack Obama breathe a long-awaited sigh of relief. Here are 5 things that have helped GM get back on its feet:
1. Consumer Confidence
Taxpayers invested about $50 billion in GM under the Troubled Asset Relief Program, and President Obama came under fire from Republican challenger Mitt Romney during the 2012 presidential election who criticized Obama's $49.5 billion bailout in 2009. Since then, GM has ignored the criticism and vowed to buy back 200 million shares from the U.S. Treasury.
Now, the automaker is now not only making the president proud, but also its loyal customers. GM managed to beat the odds in May by topping its initial public offering price in 2010 for the first time in two years. And its success only continued after that.
Following 13 straight profitable quarters and a rising share price that reflected solid investor confidence, GM rejoined the S&P 500, just after the Treasury's reported an additional selling of 30 million of its shares. The news reflects just another step in the right direction for GM, and although the Treasury isn't expected to make its full exit until the first quarter of 2014, the automaker has made it clear that it is well on its way to a full comeback.
2. Product Cycle Sweet Spot
And what is GM making its comeback with? A new fleet of 20 vehicles that the company plans to introduce in the U.S. this year. Part of this fleet is a set of refurbished trucks that the automaker is especially excited about, especially because when GM releases its new line of pickup trucks later this year under the Chevrolet Silverado and GMC Sierra nameplates, the redesigned units will be available with a 4.3 litre EcoTec3 V6 option.
This will then help boost fuel efficiency to a point that surpasses Ford's (NYSE:F) entry 3.7 litre V6. With new boasting rights of having  the "best-in-class capability," GM is confident it can lure consumers back as it works on meeting mini-decade goals of sustaining traction and stemming loss in Europe, developing a strategy for growth in China, and boosting North American operating margin to 10 percent.
3. Satisfying Need for Speed, Luxury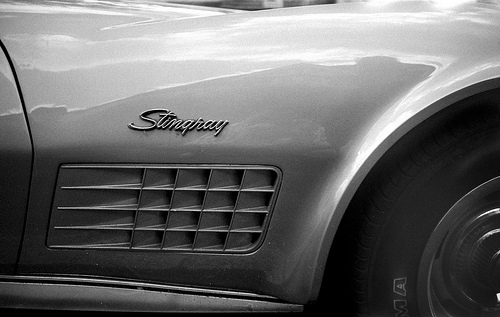 Part of GM's success also has to be attributed to the way in which the automaker has made efforts to cater to different segments of its consumers' needs. While the truck may be perfect for many, GM recognizes the driver who is after speed. And that's why the U.S. automaker has made headlines with its new 2014 Chevrolet Stingray Corvette.
The vehicle can not only go from zero to 60 miles per hour in 3.8 seconds with the Corvette's optional Z51 performance package, but it also can come to a full stop from that same speed in only 107 feet. The way the new Corvette's acceleration, braking, and cornering systems work together is what affords the car its 2:51.78 lap time at a 4.2 mile raceway, and it comes with a new LT1 6.2-liter V-8 engine.
But not only that, GM is also catering to the luxury end of the vehicle spectrum. GM's new Cadillac ELR reflects the brand's future design strategy with its sleek lines, aggressive stance, and a crisp, modern look. The ELR is also a hybrid vehicle and  features a 1.4-litre engine, good for about 84 horsepower, and an electric motor that provides its 295 pound-feet of torque. It recently won a prestigious design award and is just an overall cool car. Just ask Jay Leno.
4. Top Safety Picks
And these new vehicles won't only promise speed and fuel efficiency, they'll also promise safety – a pledge that GM has demonstrated its commitment to by its new report of a full Buick lineup that  boasts high scores from the IIHS, and also the National Highway Traffic Safety Administration. Along with  the 2013 Buick encore, the Enclave, LaCrosse, Verano, and Regal all scored five-star overall ratings from the safety rating organization. The Enclave, LaCrosse, Verano, and Regal are also all Top Safety Picks.

5. New Management
Lastly, the U.S. automaker's new management is also much to thank for the company's highlighted ability to turn itself around. Grace Lieblein, formerly a GM executive in its China and Brazil branches, has transplanted herself back to U.S. soil to take on the new role of head of U.S. purchasing.
Lieblein spent two-and-a-half years in Mexico before heading to Brazil at a pivotal time when the unit was beginning production of nine new models in 20 months. While there, she developed her knowledge of auto parts makers, while also working to consolidate efforts and integrate GM's purchasing and logistics team with product development.
Her work with the integration effort, an unusual feat, coupled with her experiences in Mexico and Brazil will prove crucial for Lieblein's position in the U.S., at a time when GM is also reworking its strategy on American soil. Lieblein will help GM introduce new vehicles while also aiming to save around $1 billion by optimizing material costs and better logistics.
Don't Miss: Ford CEO: Japan's Currency Manipulations Hurt U.S. Automakers.