5 Ways to Slice Ford's Success Story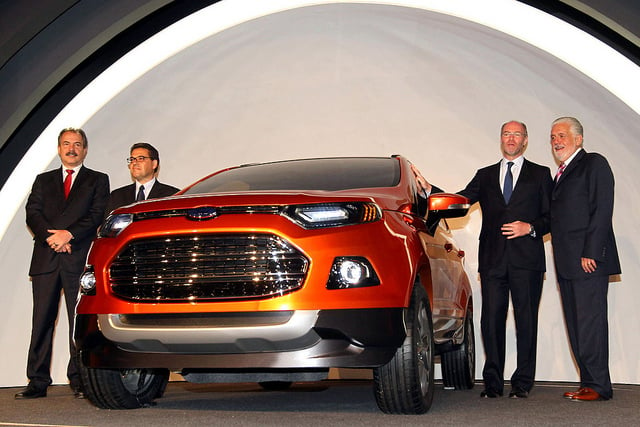 It's been a good year for Ford Motor Co. (NYSE:F). The once-struggling U.S. automaker has managed to persevere through investor doubt and continue its streak of quarterly profits in 2013 after wrestling with bankruptcy only a few years before. Experiencing renewed consumer demand in the U.S. and moving into new markets, Ford has managed to prove its revived success is here to stay, and may even be more considerable than ever.
That reality was further solidified this week as the automaker's shares surged upon the release of its third-quarter earnings report on Thursday. Shares hit a 52-week high as investors learned Ford's revenue had climbed 12.2 percent on the year to $36 billion and its adjusted earnings rose 12.5 percent year over year to 45 cents per share.
The Dearborn, Michigan-based firm also increased its full-year guidance, brightening the rosy picture of Ford's future. Whether you drink the Ford Kool-Aid or not, here are five new Ford realities that are hard to dispute.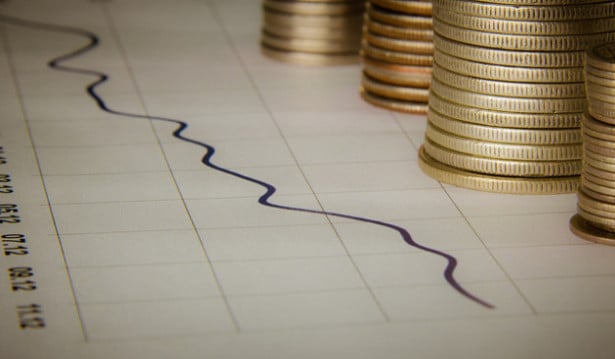 1. Rising Market Cap
As mentioned before, Ford shares are rising, and rising fast. Bloomberg highlighted in a Friday report that the automaker's market value is now reaching levels it hasn't seen since 1999, and it's all thanks to the company's continued ability to consistently roll out impressive quarterly reports.
Following Ford's third-quarter earnings on Thursday, the automaker traded at a market capitalization of more than $70 million, reflecting a benchmark it has only closed at three times in the last 14 years.
According to Bloomberg, Ford is nearing its peak valuation of $76 billion that it registered in May 1999. In comparison, Toyota Motor Corp. (NYSE:TM), one of Ford's main rivals, ended Thursday $30 billion short of its last market high of $254 billion from February 2007.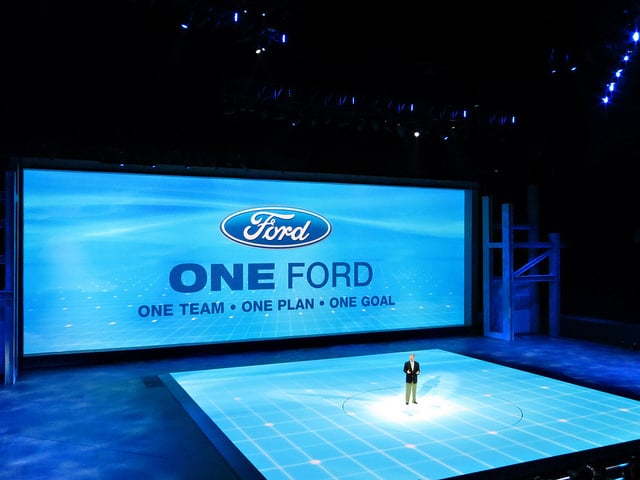 2. Seventeen Straight Quarters of Profit
Thursday's report also marks the 17th straight quarterly profit for Ford.
That's a significant number for any automaker, but especially for Ford, because it experienced its brush with bankruptcy only four years ago. Now, not only has CEO Alan Mulally managed to put those bankruptcy nightmares to rest, but he has also worked to break into new markets and extend Ford's sales beyond just trucks and SUVs.
While Ford used to follow only in the footsteps of Japanese automaker Toyota, the U.S. carmaker is now — according to Bloomberg – on track to beat its all-time valuation, and it is finally rolling out Detroit-made cars that compete with the top-selling vehicles in the game.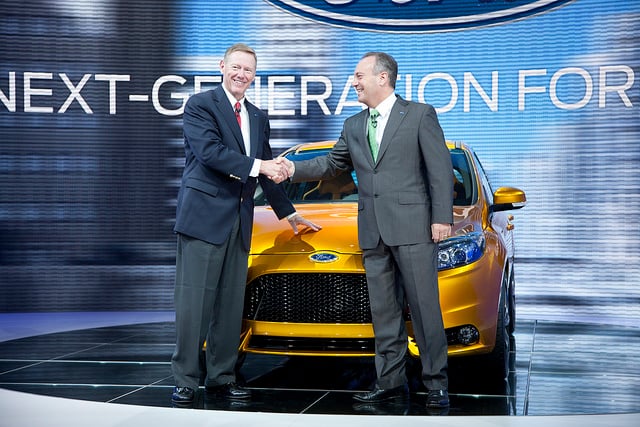 3. Alan Mulally and His Team
Speaking of Mulally, the CEO can be credited with much of Ford's recent significant successes. Coming to the U.S. automaker from Boeing Co. (NYSE:BA) in 2006, Mulally has helped pave the way for Ford prosperity, and he has established a competent team that investors are confident can carry on the CEO's legacy after his eventual departure.
According to Bloomberg, many analysts credit Mulally with transforming Ford into a global automaker from a primarily North American one. When the CEO joined the Michigan-based team, the majority of its focus was on its North American operations, leaning on its trucks and SUVs for the bulk of profits. But now, Mulally has broadened that lineup with more competitive cars and primed his predecessors to continue doing the same.
It is still unclear when Mulally will depart from Ford, though the CEO maintained on Thursday that he'd remain at the automaker until 2014. It is at least certain that there will eventually be a leadership change, and when that happens, many analysts feel confident that the person who follows Mulally will be well prepared.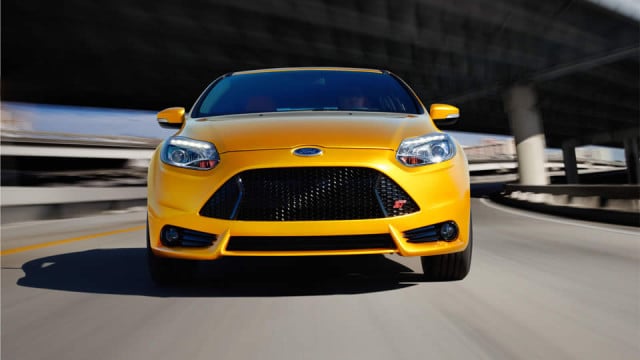 4. Global Goodness
With Mulally's help, Ford has successfully been able to rapidly expand its global presence, especially in the countries where it counts.
China is currently the world's largest auto market, and Ford is now poised to earn the top-selling sales crown for its Focus compact on account of the vehicle's popularity in the country. Those sales have helped the U.S. automaker score a rare quarterly profit from its overseas operations, Bloomberg reports, and the gains are also thanks to Ford's continued success with its B-Max vans in Europe.
The automaker has proven its ability to cater to different countries' demands and desires, and with that realization has come profit. Mulally has long wanted Ford to develop nearly identical vehicles across global markets, and now that the company has met those goals, it has experienced shrinking losses in Europe, gains in Asia, and sustained demand in the U.S.
Ford's automotive sales rose 12 percent, to $33.9 billion, in its latest quarter.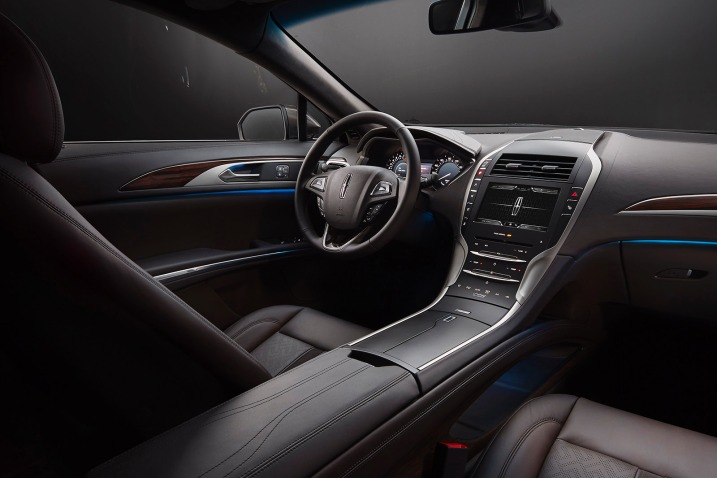 5. Successful Brands
Although the automaker has been recognized for a handful of successful marques in its home market, plans to take those brands global have only recently been realized, and analysts anticipate even greater gains in the future as Ford's brands gain footing in their new markets. According to Bloomberg, Ford is planning on opening nine new factories this year through 2015, including five in China and two in India.
The China locations will help support Ford's launch of its Lincoln brand in the country next year; the luxury brand will join the redesigned Mondeo, which was just introduced to China in August. The Mondeo brand is also planning to soon roll out in Europe, as will the Mustang, marking its first sales presence off North American grounds.
It's evident that Ford has come a long way, but it still has a long way to do. Luckily, for now, the company has Mulally backing its cause. Even when the 68-year-old CEO departs, analysts are confident the passing of the torch will go smoothly.
Don't Miss: Elon Musk Explains the Model S Fire — Again.