Generally, a vehicle subscribes to a certain category, a segment or class of automobile that is almost assured to sell to a specific demographic of buyer. There are exceptions of course, but like everything else, there are people who fall between — and automakers who make the effort to cater to them.
An SUV is often an SUV; a coupe is often a coupe. But for some, the perfect vehicle might lie between those two designations, and every once in a while, engineers are given the green light to experiment a little bit. The results are sometimes met with success, and sometimes not, but the point is that they were tried in the first place.
Here are six cars that seem to be born out of this process, as an attempt to address that small minority of people who want an SUV that isn't just an SUV, or a coupe that's more than a coupe. They're hard to categorize, and sometimes hard to determine what the engineers were thinking, but it's assured that they'll add some unique spice to the status quo.
This is by no means a comprehensive list — let us know what we left off in the comments below!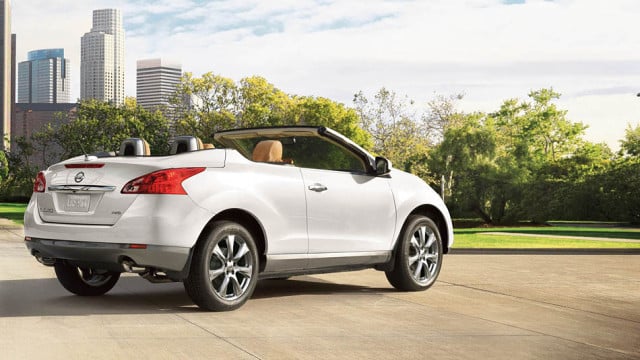 1. Nissan Murano CrossCabriolet
The Nissan Murano CrossCabriolet is perhaps one of the greatest examples of a Frankenstein car, as it takes to concepts on polar ends of the spectrum — in this case, a convertible and SUV — and stitches them together with varied results. Say what you will about Nissan's unusual offerings, but they are one of the few companies taking risks on odd vehicles like this one, or the Juke, or the Cube.
In the case of the Murano, the idea seems to be mixing the open-air enjoyment of a convertible with the high ride height, cargo capacity, and posture of an SUV. Though reviews have said the Murano isn't the worst car they've driven, it seems to fall short of its mission — instead offer the cumbersome nature of an SUV, with the practical nature of a convertible. Odd though it might be, we certainly commend Nissan for taking a stab at such an unlikely marriage of ideas.