6 Ways in Which BMW's All-New i3 Is Gunning for Tesla
Tesla Motors (NASDAQ:TSLA) has been enjoying the majority of the electric car press this summer, and for good reason. Its chief executive officer, Elon Musk, has managed to roll out a stylish, albeit expensive all-electric novelty that succeeds in putting just about any other car to shame. His Model S is not only appealing to the eye, but also to the mind, with its 265-mile driving range promise effectively alleviating any electric car range anxiety, but now, BMW has had it with all the Model S murmurings, and it's ready to reenter the spotlight with its much-anticipated i3 that was launched Monday in New York, London, and Beijing. The all-electric city car, designed to comfortably seat four people, is ready to take luxury to an electric level, and BMW promises it's only the beginning.
Here are the six ways that Norbert Reithofer and BMW are positioning its i3 launch to prepare for a total Tesla take-down:
1. Price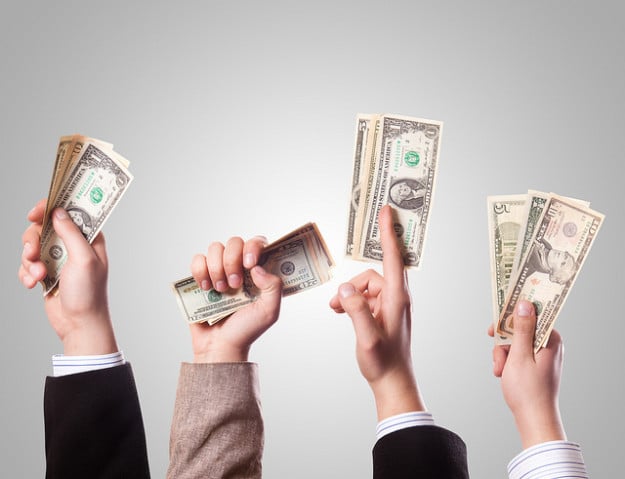 It's no secret that Tesla requires a pretty penny for a ticket to its all-electric car show. Its Model S sedan starts around $70,000 — a pricey pill for even the most lavish consumers to swallow. The BMW i3, on the other hand, has a base price of $41,450 in the U.S. and 34,950 euros in Germany, and this more reasonable figure could help the German car maker score loyal drivers that already trust BMW's quality.
But while the i3′s price is more appealing than that of the Model S, it still stands above offerings from other electric car competitors such as Nissan Motor Company and Fiat S.p.A. Nissan's 2013 Leaf and Fiat's 2014 500e both don't breach the $33,000 benchmark, but BMW is still confident it can lure in upscale drivers attracted to the brand, despite its hefty price tag.
2. Opportunity To Go Premium

Like Tesla, BMW's CEO, Norbert Reithofer recognizes that there is always a sector of consumers who are willing to pay more for a premium promise. While Tesla offers premium options for consumers who want to extend their electric car capabilities past 208 miles, BMW is rolling out the same opportunity with its premium i3 ReX. This extended-range version of the hatchback expands BMW's driving range guarantee from 80-100 miles to up to 185 miles without recharging. These vehicles will wear a significantly higher price tag, but the German car manufacturer still believes many members of its consumer base will jump at the opportunity.
3. Cabin Style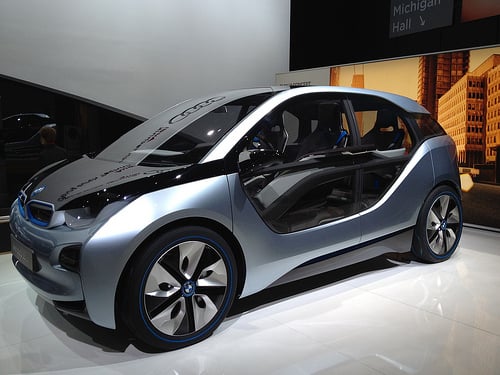 It's hard to compete with the sharp style of the sleek Model S, but if anyone can do it, BMW probably can. Long known for reeling customers in with its sophisticated look and appealing quality, BMW has done it again with its new i3 city car. Though this vehicle has a different look than the other BMWs on the roads, the five-door hatchback still sets itself apart in the market with its unique exterior and futuristic interior. CNET explains that the i3 cabin has a "futuristic twist," a look that BMW achieved by "[carving] out some of the extra dashboard space and [setting] up an LCD for all instrumentation display, kind of like a flat-screen TV standing atop a modern entertainment center."
This cool cabin allows drivers to access the standard iDrive controller and manages to blow away those of just about any other car in the hatchback market. However, these cabin tech features also don't take away from the vehicle's utility. The hatchback promises to fit four passengers and their cargo comfortably, only accentuated by the electric car's flat floor.
4. Car Body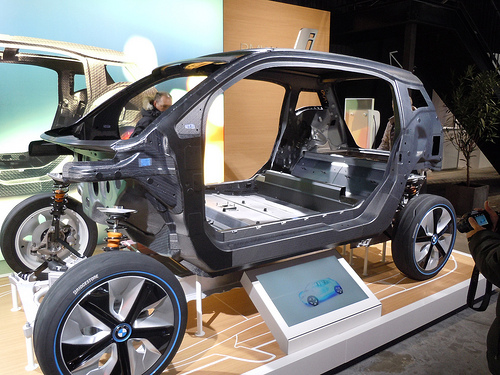 But BMW doesn't stop at the interior, it takes its "futuristic" theme and applies it to the construction of the car's body as well. The i3 was purposefully constructed to set itself apart from the other electric cars currently on the market by boasting a lightweight, battery electric structure. It succeeded in its goal by employing carbon fiber for the body, allowing the car to weigh in at only 2,700 pounds without sacrificing safety and strength. Reithofer believes that the key to electric vehicles is their lightweight materials, and that is why BMW invested a significant amount in its development of this high-tech material.
5. Reputation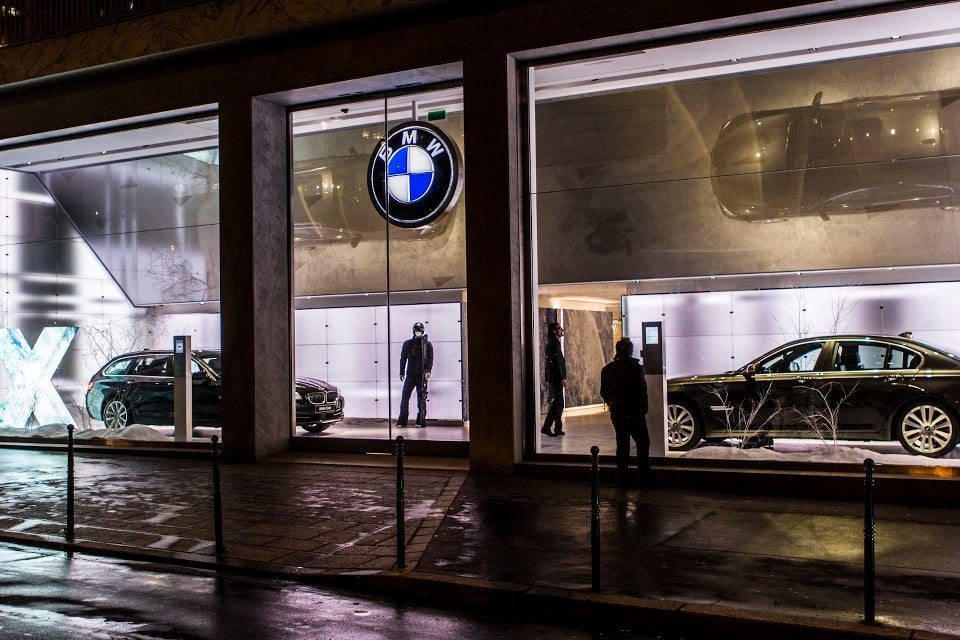 Still, many experts and analysts question how successful BMW can be in a tight electric car market that is undoubtedly showing signs of growth, but whose vehicles' price and size are still impractical for most people.
Tesla has its name going for it and the recent headlines that surround Musk and the Model S only help the vehicle's cause; however, what BMW has that Tesla lacks is a solid history. Consumers know the BMW name and the German manufacturer has proven its commitment to quality and luxury. With BMW's network of 339 independent dealers, drivers know where to find their BMW vehicles, and they're more than happy to show them off. It'll be up to BMW to prove that it can extend its success to the electric car market, finding a place for its luxury vehicles there, but it at least has its formidable reputation to lean back on.
6. Staggered Launches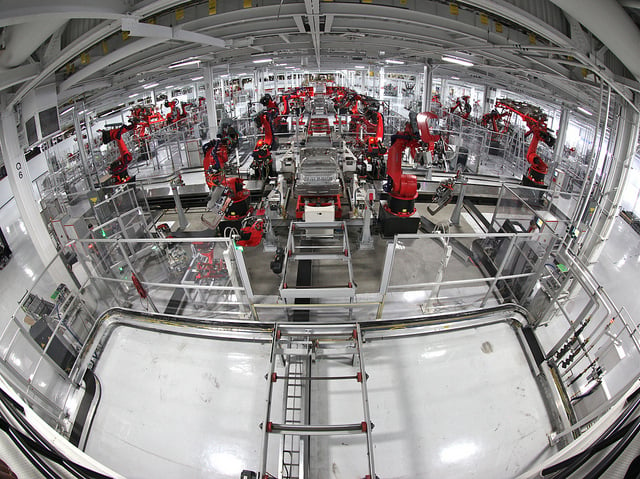 The last thing that BMW has going for itself is the purposeful staggering of its vehicle launches. Though its newest i3 will undoubtedly compete with the Model S for electric car lovers' attention, the four-seater city car is only one part of the German car manufacturer's electric car strategy. The real competition for the Model S will be BMW's i8, an all-electric vehicle whose size and price will match up more distinctly with Tesla's larger seven-seater sedan.
It is not yet clear when the i8 will go on sale; however, by staggering the launches of the i3 and i8, BMW can play trial and error and make the the necessary improvements to its electric car lineup before the i8 is rolled out.
Luckily for Tesla, the U.S. automaker also has some more vehicles in the works, so at this point, it's just a race to the electric car finish line.
Don't Miss: Report: GM Fires Workers, Faces Fines Over India Recall.