7 Affordable New Cars That Make Commuting a Pleasure
For many Americans, commuting to work joins death and taxes as one of life's sure things. That means the happiness of countless individuals is being affected by the comfort, efficiency, performance, and value of the cars they drive every day. There's no reason to compromise on any of these fronts. There's also no need to spend much more than $25,000 to get one. Here are seven affordable cars that make the daily commute a pleasure.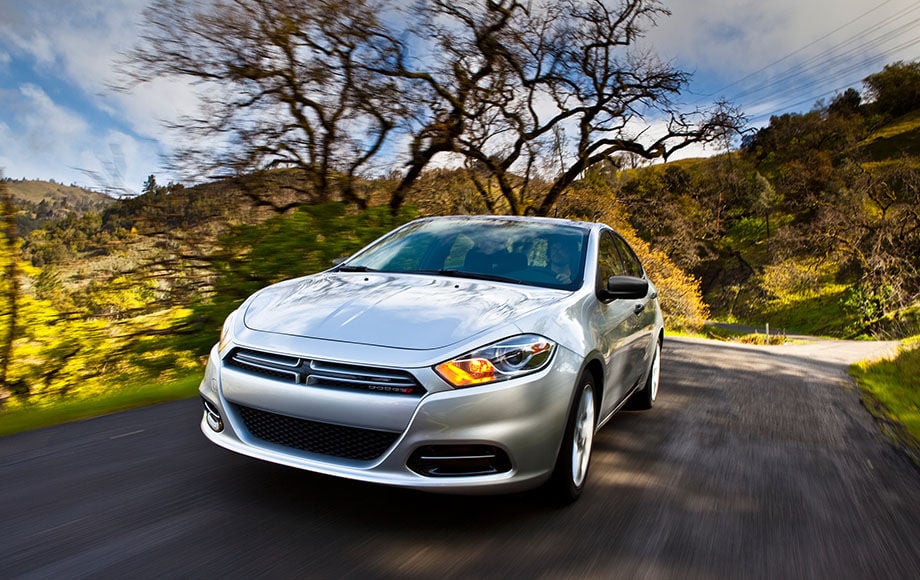 1. 2013 Dodge Dart SE ($15,995)
There is a little sportiness in the look of the 2013 Dodge (FAITY.PK) Dart SE, a compact car that sits well with any budget. The Dart's base price is under $16,000, it gets 36 mpg highway (25 city), and it packs a bit of punch with a 2.0L Tigershark engine capable of generating 160 hp on 148 lb-ft torque. That's not bad for a car that will squeak into any parking spot in town.

2. 2013 Mini Cooper Countryman ($22,100)
For a four-door wagon with a dose of European style, drivers can do far worse that a Mini Cooper Countryman from BMW. There's no muscle to speak of (a paltry potential 121 hp) in the 1.6L 16-valve engine, but getting 35 mpg (27 mpg city) on the highway and landing at a base price just over $22K, you'll forget about the hassles of traffic and enjoy the comfortable ride.

3. 2014 Ford Fusion Hybrid S ($26,200)
Though many will balk at spending over $25,000 on a commuter ride, the 2014 Fusion Hybrid S Sedan by Ford (NYSE:F) is worth the relative splurge in this segment. For starters, the car is prettier than many of the midsize sedans on the road. Then's there the efficiency. This car offers drivers considerable savings by getting 47 mpg city and highway. It's also capable of generating a respectable 188 hp on the combined electric/gas motors and has optional comfort upgrades in the SE ($27,200) trim.

4. 2013 Nissan Sentra SL ($19,590)
Nissan (NSANY.PK) has a top-ten selling car in its Altima, but the more affordable Sentra provides superior value for those workday commutes. The 1.8L 4-cylinder engine only scratches out 130 hp, yet the Sentra SL trim is all about efficiency, delivering 39 mpg highway and 30 city for drivers. Interior tech upgrades make it a fun car to drive as well.

5. 2013 Honda Civic ($18,165)
It's easy to see why the Honda (NYSE:HMC) Civic is perennially one of the top-selling automobiles in the United States. With a winning combination of reliability, safety, and efficiency (39 mpg hwy), drivers can be certain they'll appear at the office every day in good shape. Interior options allow for substantial entertainment upgrades before coming close to the $25K mark for the 2013 model.


6. 2014 Chevy Cruze Eco ($19,835)
Many wonder why it took General Motors (NYSE:GM) so long to get the commuter car down, but the automaker has a hit on its hands with the Cruze — the ninth best-selling car in the U.S. for July 2013. Starting under $20,000 and featuring an EPA-estimated 42 mpg highway, there's a lot to love about the 2014 Cruze Eco and its 1.4L turbocharged engine's efficiency. The interior options and Z-link suspension make it a comfortable ride as well.
7. 2014 Toyota Camry Hybrid ($26,140)
It would be difficult to make a list of practical commuter cars without a Toyota (NYSE:TM), and the automaker has done great things with its 2014 Camry Hybrid LE, which delivers a little of the style the Prius never had while getting an EPA-estimated 43 mpg on the highway. There's little question about the reliability of Toyotas, and though this car ranks at the top end of the price list with the Fusion, it will make commuting a treat.
For around $25,000, you can find efficiency, comfort, and even some punch in a car that will take you to work in style. With the low base prices in some of these rides, there's room to make entertainment packages your commuting car's secret weapon.
Don't Miss: Old Glory: 8 Most American Trucks to Buy.