7 Homegrown American Cars and Trucks Hitting Showrooms This Year
American manufacturing seems to be making a comeback, albeit somewhat slowly — and one of America's most prominent industries has long been automobiles. Despite losing their edge in the past few decades and struggling against foreign competition from around the globe, the last couple of years have shown that American car companies are putting themselves back on top. Here are some highlights that you can look forward to for this year.
We chose not to include cars from the Chrysler Group as they are now owned wholly by Italian firm Fiat SpA, despite that it is still headquartered in the U.S. and the family of brands — Jeep, Dodge, and Chrysler — do employ numerous American citizens.
The following are not ranked by any specific measure, and this is by no means intended to be a comprehensive list, but here are seven cars from American companies that are helping lead the charge back to American automotive dominance.
1. Ford F-150 
With its innovative aluminum modular design and Ford's (NYSE:F) powerful turbocharged EcoBoost engines, the new 2015 F-150 is aiming to set a new standard among gasoline-powered pickups for efficiency. Swapping out the steel for aluminum is saving as much as 700 pounds, this allows the truck to boast a higher payload rating and enhance fuel economy, handling, and performance when it isn't lugging around a full load.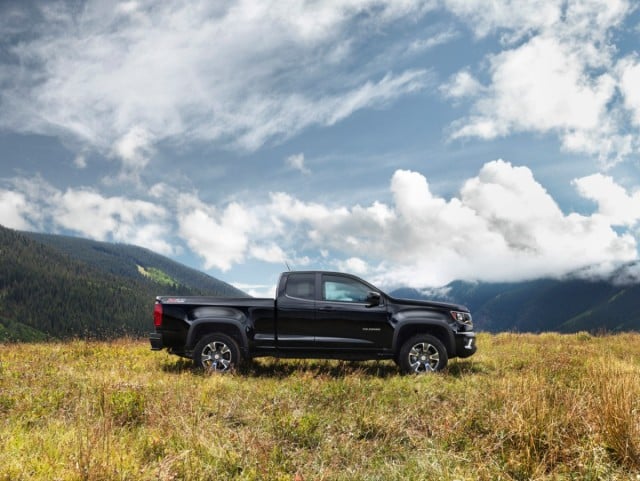 2. Chevrolet Colorado
A rather dire lack of options in the small truck market has likely forced many to upgrade to larger trucks that they didn't really need, but General Motors (NYSE:GM) is going on the offensive with its new Chevy Colorado and GMC Canyon, which will compete directly with Toyota's Tacoma — the ruler of the roost for the past several years.
Notable highlights include a four- or six-cylinder option with a 2.8 liter diesel unit due for the 2016 model year, which will definitely be a game-changer for the segment.
3. Ford Mustang
In order to appeal to its new global audience, the Ford Mustang will soon be available with a four-cylinder engine, but fear not — the legendary 5-0 is still on the menu, as is the V6. Ford seemed to nail the balance between making the new Mustang desirably modern and comfortably familiar, with many styling cues tracing back to the original 1964 model.
4. Cadillac ATS Coupe
The Germans have built a solid name for themselves with luxury coupes — such as the Audi A5 and BMW 4 Series — and Cadillac is looking to get in on the action. The ATS coupe is a graceful progression from the sedan, with clean, crisp lines that don't make a big deal about the body's new format.
The front fascia is free of any extraneous gills, flaps, vents, ducts, or bulges, and is crowned nicely with the laurel-free Cadillac badge, the first production vehicle to sport it. A 2.0 liter turbo-four or a 3.6 liter V6 will be the engine choices to start, though a hotter ATS-V is almost inevitable down the road.
5. Lincoln MKC
Lincoln is aiming to cash in on the growing small crossover-SUV trend, and is launching the MKC to compete with the likes of Buick's Encore, Cadillac's SRX, BMW's X3, and Audi's Q5. However, the Lincoln will be priced at around $33,000, giving its main competition a serious run for its money — literally.
Power comes from Ford's 2.3 liter EcoBoost, which is good for 285 horsepower. All-wheel drive is an option, and Lincoln's lengthy options menu can ensure that the MKC will live up to the buyer's expectations for a luxury car.

6. Chevrolet SS
Over 400 horsepower is sent from a 6.2 liter V8 to the rear-wheels,  making the Chevy SS one of the more thrilling family-friendly cars on the market. It's a bit of a gamble for GM, however, as hot sedans have never really caught on in the U.S. like they have elsewhere, but we're excited that it's here. The price starts at a not-insignificant $43,475, but don't expect it to go too much further — Chevy isn't offering any options outside of color choice, a full-size spare, and a sunroof.
7. Cadillac Escalade
GM is overhauling its entire SUV lineup for 2015, and the Escalade is seeing perhaps one of the more significant alterations. The build quality and materials are being stepped up substantially, and Cadillac is throwing far more standard equipment into it.
The price starts at a lofty $71,695 at base, but Cadillac says that even the standard, most basic model will be as equipped as the higher trims of the previous generation.
More From Wall St. Cheat Sheet: