8 New 2015 Cars Coming to the U.S. from the Far East
Japanese cars, for better or for worse, have become an integral part of the American automotive landscape. Generally renowned for their superb reliability and their emphasis on fuel economy and efficiency, Japanese vehicles first called America home in the 1970s and '80s. Now, the supplier chains that support them and their manufacturing assets and investments in North America make up a significant portion of the U.S. automotive economy.
Regardless of how people feel about foreign vehicles politically, Japanese cars are popular for a reason. It can also be argued that their commitment to excellence and production efficiency throughout the years has helped spur American brands into bettering their own products to better compete, and through healthy competition, everybody — notably the consumer — wins.
Here are eight new cars that we'll see this year, arranged in no particular order. This is not a comprehensive list, so add your suggestions in the comments below.
1. Subaru Legacy
The new Subaru Legacy was unveiled a few weeks ago, and will be primed for its U.S. showroom debut later on this summer. Aside from adding Subaru's CVT as the Legacy's only transmission option, few drastic changes have been made to the car underneath. Its exterior, however, has been fully redesigned and somewhat humbled compared to the previous generation. Despite Subaru's lack of adventure and risk in its appearance, the new Legacy promises to be one of the more comfortable and easy-driving Subarus to date, and it boasts an industry-leading 36 miles per gallon highway and 26 miles per gallon city, the best among its all-wheel drive competition.
2. Honda Fit/Vezel Crossover
It's still unclear what its official U.S. market name will be, but we know that Honda's (NYSE:HMC) Fit-based crossover vehicle will meet a warm reception when it arrives later this year. The compact crossover market — like really compact — has seen tremendous growth recently, and Honda has stayed fairly sidelined without a small compact offering on the North American market. Knowing Honda, expect the new car to be super efficient, reliable, and quirky in its own way.
3. Subaru WRX
Subaru hailed the new 2015 WRX and WRX STI (pictured) as the best-driving versions of their respective names ever, but it left some loyal fans feeling pretty let down in terms of visual excitement. After the insane-looking WRX concept from March, the production model didn't quite live up to the boiling expectations for the car from a cosmetic standpoint. However, from the specs of the new models, it's apparent that Subaru has put all of its energy into making sure the car is the best-performing version that it can be.
4. Acura TLX
Wave farewell to the TSX and the TL, and say hello to the TLX, meant to replace both outgoing models. Acura's new flagship sedan brings the brand's game up to a whole new level, with simple but sophisticated body lines, an understated chrome beak (thank God, it's about time), and smooth contours that give the Acura a sense of prestige and presence that it never had before. It won't come with a V8 option, but chances are it will be one of the most efficient and perhaps best-looking sedans in its class.
5. Honda Fit
Honda's Fit has been a crown jewel of its global fleet, winning fans around the world. Honda's hoping to recreate that magic with the new 2015 Fit. The car gets a full redesign on the exterior, a new Honda Earth Dreams i-VTEC engine (with 130 horsepower), a choice of a six-speed manual or CVT, and new sport-tuned suspension. Though the new Fit is wider than the outgoing generation, it's a bit shorter, helping ease handling in busy urban areas, and it promises to be among the roomiest of compacts on the market.
6. Mazda Mazda6 Diesel
The 2014 Mazda Mazda6 has been winning over fans with its curvaceous styling and commendable efficiency, but it's only going to get better with the Mazda6 diesel. Originally slated for spring, the diesel version's release has been delayed to allow the company more time to balance efficiency and performance. Given that the gasoline model can net almost 40 miles per gallon on the highway, the diesel will undoubtably make the Mazda6 one of the most efficient in its class.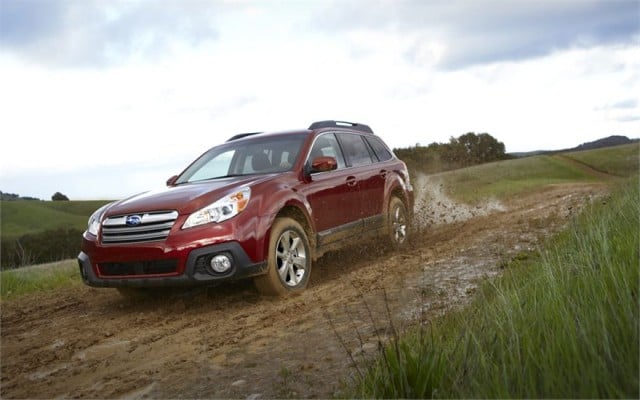 7. Subaru Outback
It's a busy year for Subaru. Though the 2015 Outback — due out later this summer, alongside the Legacy — hasn't yet been revealed, it's expected that the outdoor enthusiast's leading choice will offer a few minor tweaks but nothing substantially industry changing. It will likely be as impressively capable as the current model but may feature better gas mileage, a different exterior (taken more after the Legacy), and the same rough-and-tumble attitude for which the Outback is beloved.
8. Nissan GT-R Nismo
If the standard Nissan (NSANY.PK) isn't insane enough, the GT-R Nismo should satisfy that void. Packing 600 horsepower — about 55 more than the standard GT-R — the Nismo edition set the record at Germany's Nurburgring for volume-built cars, with a lap time of 7 minutes, 8 seconds. It uses GT3-spec high-flow, large diameter turbochargers to get the extra boost, while virtually everything from the aerodynamics to the suspension has been tinkered with for maximum potential.
More from Wall St. Cheat: