A Bolt to the Volt Following GM Price Cut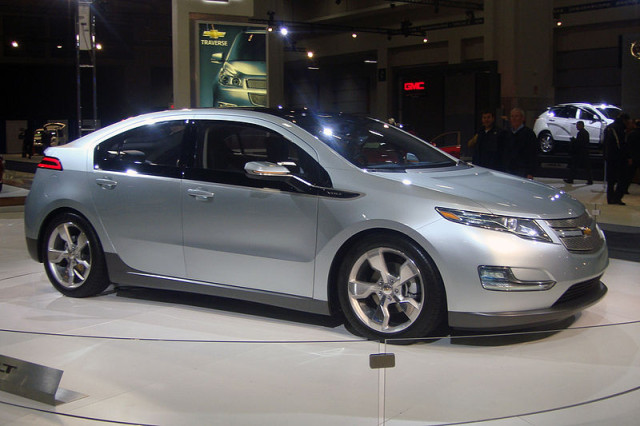 Many American consumers like the idea of electric cars, but few are willing to shell out the cash that they require for purchase. General Motors (NYSE:GM) struggled with that problem this summer but worked to combat the deflated demand by issuing price cuts for its Chevrolet Volt in early August.
Nissan, too, implemented a similar strategy with its struggling Nissan Leaf, and now, according to The Detroit News, thanks to those price cuts, it's been smooth sailing (or driving) for both automakers ever since. August even marked the best sales month for both vehicles in their history.
In terms of the Chevrolet Volt, a popular plug-in hybrid that has especially appealed to consumers on the West Coast, GM cut its base price 12.5 percent on the vehicle, from $39,995 to $34,995. That $5,000 price slash effectively spurred the sale of 3,351 Volts in August alone, and in popular markets like California and Michigan, sales increased as significantly as 80 percent and 60 percent, respectively.
Those price cuts also came in the wake of a $5,000 incentive on the 2012 Volt and a $4,000 incentive on the 2013 model that GM announced this summer. Thus, recent sales reports illuminate that these packages were all consumers needed to pull the trigger on an electric car buy.
Nissan, too, employed a similar strategy with its all-electric Leaf after the vehicle struggled to sell in the U.S. market where electric car interest is high, but the price tag is higher. The Japanese automaker lowered the base price on its Leaf by 18 percent, now down to $28,800 for the 2013 model year, and Nissan is reaping the benefits. The company sold 2,420 Leafs in August alone and is still witnessing increased demand.
Thus, these two automakers' efforts illuminate the reality that while demand for electric vehicles in the U.S. is undeniably strong, many consumers still need to see the whole package before they agree to buy into the new market that is still in its nascent stages.
Automakers everywhere are rolling out more electric car offerings, including those from Ford (NYSE:F), Honda Motor Co. (NYSE:HMC), and Tesla (NASDAQ:TSLA), but as these vehicles flood the market,  suppliers have to work on continually increasing consumer demand — and that's where price cuts come in.
The Detroit News points out that Ford has already slashed the price of its Focus EV by $4,000 for the 2014 model year, and Honda has also acted similarly.
While the old price of the Focus EV was $39,200, the new price is now $35,200. Honda also promised in May that the price of its Fit EV would decrease from $389 to $259 per month, and the cost of existing Fit EV leases has also been slashed, by $130 per month.
Don't Miss: 5 Notable News Bites from Around the Auto Industry.