A Nervous GM Is Spying on the Tesla Playbook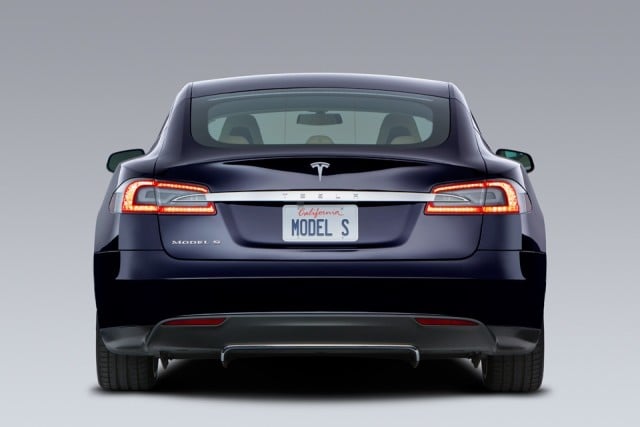 Not all that long ago, news broke which indicated that General Motors (NYSE:GM) had formed a special committee with the sole purpose of studying Tesla (NASDAQ:TSLA) and assessing the upstart EV maker as a threat to GM's business.
While Tesla produces a minute fraction of the number of cars that GM makes, the latter's fear of the California-based Tesla isn't completely unfounded: This year to date, Tesla's market valuation has rocketed to $23 billion, nearly half of the $50 billion that GM is worth on the public exchange.
"At this pace, if the bubble doesn't burst, 10-year-old Tesla could eclipse 105-year-old GM next year," Reuters points out. Moreover, Tesla's car — yes, car, singular — has been cleaning house, winning accolades of all sorts, including a handful of "best car" awards, safety kudos, and others, thus firing numerous warning shots over the bows of just about every manufacturer operating in the American market.
While GM at one point had a rather successful foray into electric vehicles, the program was scrapped, and throughout the '90s and much of the 2000s, EVs fell to the wayside in favor of gasoline-dependent hybrids. But while other ships have sailed, leaving GM on the wharf, CEO Dan Akerson and Vice Chairman Steve Girsky  are not about to let electric vehicles be one of them.
"History is littered with companies that knew what was coming and couldn't do anything about it," Girsky said in an interview with Reuters in New York last week. "We can ignore it and cover it up, or we can figure out what we're going to do about it." The publication added that Girsky, who, like Akerson, was an outsider with Wall Street experience, "is intrigued by Tesla's potential to disrupt the auto industry's time-honored business practices."
Many assumed that Tesla would go the way of the ill-fated Fisker Automotive, which, after a rather promising-looking start, came crashing back to Earth in fairly humiliating fashion. Yet as time progresses, Tesla continues to surprise: its Department of Energy loan is fully paid back, the company posted consecutive quarterly profits, and production targets are being met — and then some. It's no surprise, then, that automotive leader incumbents are likely paying rapt attention. Or at least, they should be.
Reuters reports that Tesla executives say the company's small size and entrepreneurial mindset, including a much higher tolerance for risk, have enabled it to cut through the bureaucratic red tape that often cripples larger, older firms such as GM. Matthew Stover, an auto analyst for Guggenheim Securities, notes that there is a lot that can be learned from the company.
"Tesla could teach GM how to 'small' a problem rather than 'big' a problem," Stover said to Reuters. "They've done that well — solve problems quickly with a small group of people."
General Motors has put the bulk of its resources behind the Volt, a small sedan-compact-type car that uses electric power but ultimately relies on a small gasoline engine after 30 to 40 miles. Tesla, meanwhile, is committed to electric-only vehicles. And despite a price half that of Tesla's Model S, GM sold only 16,760 Volts through September, barely outselling the Model S, even though the hybrid is in its third year on the market.
Moreover, the Volt is the result of billions of dollars that GM is sinking into the extended-range, plug-in drivetrain. Its corporate sibling, the Cadillac ELR, will be released next year at a price roughly equivalent to the Model S. However, the uptake on the Volt hasn't been as quick as GM was hoping, so it's copying some pages from Tesla's playbook.
Tesla's business model is now quite well known: start high up with expensive luxury cars that hide the inflated costs of electric power. As EV tech becomes more widely accepted, the company will produce models at increasingly affordable price points, scaling the company up as the costs of electric vehicles scale down. While the Model S is continuously battered by critics as being far too expensive — there is no denying that it is pricey — Tesla has long promised that there will be a more affordable, $35,000-range model coming.
And when that mass market vehicle does arrive, GM is hoping to be there with open arms, waiting for the car with its own EV contender priced in the same neighborhood. Akerson has said that GM is working on a more advanced battery pack that could provide a pure electric vehicle with a range of 200 miles between charges, which the Model S already achieves, Reuters reports.
However, while GM immerses itself deeply into the development of that model, Tesla has said that it expects to ramp up annual production of its new Gen 3 cars, the more affordable model, to 400,000 or more, compared with the 20,000 Model S sedans it will build this year, indicating that Tesla has no intention of sitting still.
Let the race begin.
Investing Insights: Will Recent News Hold Tesla Motors Back?