As Lawsuits Flood In, Court Rules Toyota Must Pay Up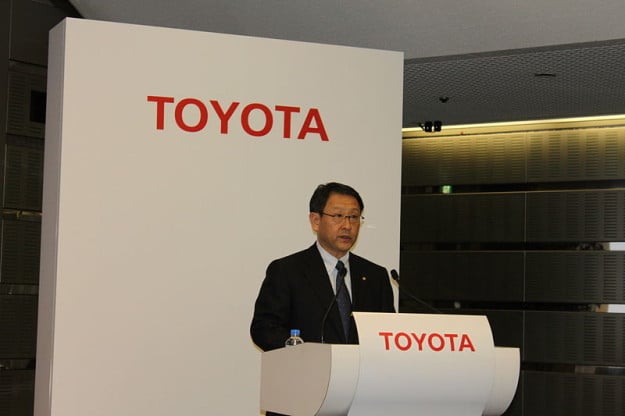 Toyota Motor (NYSE:TM) is looking at a hefty payment after a jury awarded payment to claims brought back in 2007. According to Bloomberg, the lawsuit was over a defect in a 2005 Camry that led to a car accident and one woman's death. On Thursday, each claim was awarded $1.5 million — 3 million in total — and punitive damages are still on the table to be discussed Friday, said Graham Esdale, attorney to the plaintiffs'.
In September of 2007 Jean Bookout lost control of the car's acceleration while exiting an Oklahoma highway. When she could not stop the vehicle, it crashed and killed her friend in the passenger seat, Barbara Schwarz. The case deals with just one out of hundreds of claims filed in state and federal courts centering on an acceleration problem. Toyota has denied that Bookout's car was defective –  an assertion the jury disbelieved Friday.
"Per the courts instructions, we cannot comment on the ruling pending the ongoing deliberations by the jury," said Toyota Spokeswoman Carly Schaffner following the initial verdict. In 2009, a Toyota's recall involving unintended acceleration had resulted in some controversy — and a press release at the time called the issue of unintended acceleration "one of the most thoroughly and repeatedly investigated issues by Toyota."
The company says that the acceleration problem is due to the shape of the accelerator pedal which needs reconfiguration "to address the risk of floor mat entrapment," said a company press release. Toyota's remedy had been to replace the floor mats in the front driver and passenger side, a measure that was scheduled to take place in 2009/2010. A second measure was decided upon, with the installation of a brake override system for the a number of models.
A second lawsuit ruled on earlier this month dealt with this very brake override system in an unintended acceleration trial. However, unlike like Bookout trial, Toyota won this one. The jury ruled in favor of Toyota over the family of Noriko Uno, who believed her accident could have been avoided if she had the brake override system. "Regarding the verdict, we are ratified that the jury concluded the design of the 2006 Camry did not contribute to this unfortunate accident, affirming the same conclusion we reached after more than three years of careful investigation — that there was nothing wrong with the vehicle at issue in this case," said a company statement.
"As an important bellwether in these consolidated state proceedings, we believe this verdict set a significant benchmark by helping further confirm that Toyota vehicles are safe with or without brake override," said the statement. If the October 10th Bellwether ruling was a confirmation of the vehicles safety, it begs the question of what the Bookout trial verdict proves.
Don't Miss: Honda's Banking on This Mini Roadster Based on a '90s Cult Favorite.