Buick's Encore Shows a Strong Performance for General Motors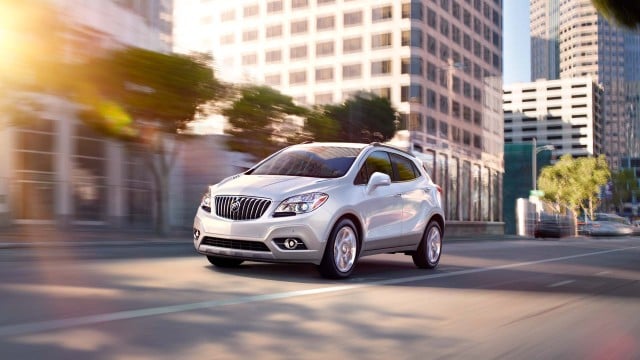 It's common knowledge that small crossover SUVs have been a hit in the American market, as they offer a fair degree of practicality with decent fuel economy and more agile handling than larger, more conventional utility vehicles. General Motors (NYSE:GM) is finding this out first hand, with the Buick Encore.
In its first full-year on the market, the Encore moved 31,046 in the U.S. alone, and 97,311 worldwide, not including models labeled under GM's Vauxhall and Opel international brands. "Right out of the gate, demand for the Encore was high," said Tony DiSalle, who is the vice president of Buick marketing, in GM's statement. "It accounted for most of the segment's growth last year, and that's because it offers the right safety, technology, and features in the right-sized vehicle for many customers."
The Buick brand fell on the sidelines for General Motors, but has since made a resurgence amid renewed focus from its parent company after GM shut down its Hummer, Pontiac, Saab, and Saturn divisions to focus on its core set of brands.
"The small SUV segment looks like the next hot spot in the new-car market," said Karl Brauer, senior analyst for Kelley Blue Book. "The combination of functionality and fuel efficiency offered by models like the Buick Encore makes them a compelling value equation for consumers. We're seeing rising research activity in these models from users of KBB.com, and we expect sales to grow in the coming months and years."
Buick has been especially popular in China, and has been a constant sweet spot for GM's performance in the region. Buick's sort of soft-luxury — it's more affordable than flagship brands like Cadillac, and not as well appointed, but more comfortable and plush than the entry-level Chevrolet or Opel brands.
GM noted that the segment that the Encore is playing in is expected to double in sales between now and 2018, making GM's early entry into the segment especially crucial.
More From Wall St. Cheat Sheet: