Cadillac Escalade Sets Its Coming-Out Party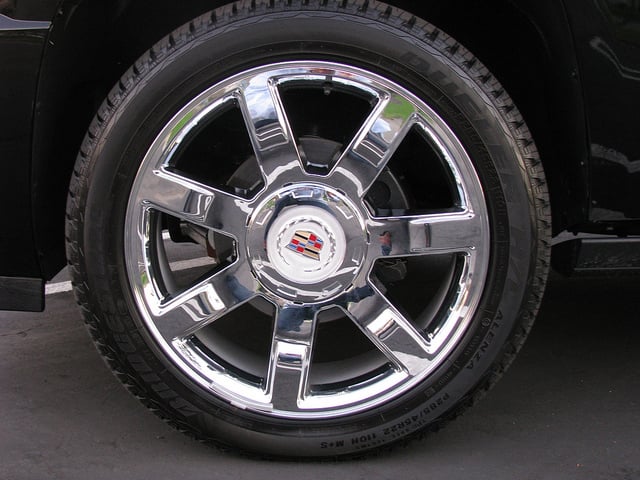 General Motors's (NYSE:GM) Cadillac division has announced that it will debut its next-generation Escalade vehicle in New York City on October 7, going on sale in 2014 as a 2015 model. According to Auto Blog whose reporters have caught glimpses of the new Caddy, the Escalade is anticipated to have a bolder, more flashy look than that of its current model with long, thin headlines and an egg-crate grill, but the inside is where the real upgrades are expected to take place.
It is rumored that its new cabin is where Cadillac will set itself apart as a luxury brand, furbishing the Escalade with its CUE infotainment system accessorized with a large touch screen and other roomy features. Motor Authority foresees the new Escalade offering a 6.2-liter V-8, rated at roughly 420 horsepower and 450 pound-feet of torque, and believes it could even have more powertrain options in the wings.
This Escalade represents the first of its kind not to be unveiled at the Texas State Fair, but GM seems confident that New York City is a more appropriate place for the launch when considering the Cadillac's customary consumer base. And that base seems to be pleased with what the luxury brand has had to offer thus far, demonstrated by the fact that Escalade sales are only down 5 percent this year even though consumers are aware that a new model will soon be launched.
In addition, because the current Escalade model had so little enhancements from its predecessor, analysts are now expecting the 2015 vehicle to realize big gains in an effort to make the upgrade worth its consumers while.
Like Ford (NYSE:F), now that the U.S. automaker has been able to resurrect such significant success with its fuel-efficient compact cars and full-sized pickup trucks, GM is ready to turn its attention to its luxury brands and make sure its recent progress is sustainable across the board. The Cadillac ELR is also poised to go on sale in early 2014, and reflects the brand's future design strategy with its sleek lines, aggressive stance, and a crisp, modern look. The ELR is also a hybrid vehicle and features a 1.4-litre engine, good for about 84 horsepower, and an electric motor that provides its 295 pound-feet of torque. It recently won a prestigious design award and even visited Jay Leno.