Can Black Label Salvage the Lincoln Name?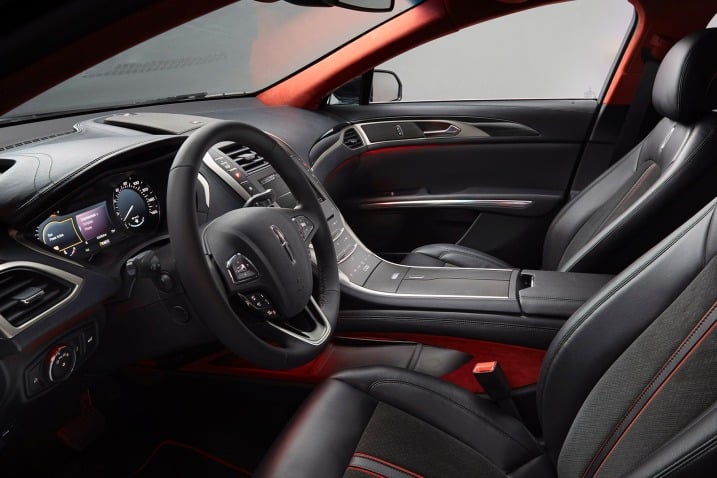 Ford (NYSE:F) has taken an opportunity at Pebble Beach to preview a new trim line for the Lincoln brand, the latest move in its attempt to overhaul and reinvigorate the luxury nameplate. Dubbed the Lincoln Black Label, the program mimics the efforts made previously such as BMW's Individual and Range Rover's Autobiography, among others.
Essentially, the Black Label line will allow "Lincoln and Black Label dealers to collaborate to create a consistent, personal and integrated client shopping and ownership experience," according to the company. "The entire process will provide respect for the luxury of time with a complete suite of elevated customer services to be unveiled at the time of Black Label market introduction," the statement reads.
The Black Label program is a collection of ultra-premium exterior and interior themes that are then combined with "an even higher level of personal services and experiences that mark the next step in the brand's reinvention." While the newly redesigned MKZ will be the first Lincoln to undergo the Black Label treatment, it will eventually be applied to all vehicles under the brand. The program will become available in late 2014, according to company estimates.
"The new Lincoln Motor Company is built on three foundational elements — design, quality, and personal service; Black Label represents our highest expression of these elements," said Jim Farley, executive vice president of Global Marketing, Sales and Service and Lincoln, in the company's release. "The progressive luxury client craves to know the story behind the products and services they engage — they want to feel that personal connection. That's at the heart of Black Label; we want to provide special experiences for every Black Label client before, during, and after they choose their new Lincoln vehicle."
Among the many craftsmanship perks, cars equipped in the Black Label package will be swathed in Venetian leather — which Ford is keen to point out that "less than 1 percent of hides globally meet the requirements for becoming Venetian leather" — natural woods "sourced globally and selected for maximum richness of color and grain," Ford says, and Alcantara throughout.
"Lincoln Black Label will offer an experience for our clients that will engage them, not overwhelm them," said Farley. "Lincoln Black Label is another important step in our brand's reinvention to appeal to a whole new group of progressive luxury clients." Additionally, Black Label customers will have concierge-like service from their dealers, both during the sale process and throughout ownership of the vehicle.
"Each of the theme-based offerings from Black Label is designed with a specific customer profile in mind," said Susan Lampinen, group chief designer, Color and Material Design. "Lincoln Black Label will offer a variety of choices as well as a narrative that speaks to luxury clients — we want them to feel a personal connection with the theme and see themselves in the car."
Whether a fancy new trim program will be enough to undo years of brand damage has yet to be seen, but from an observer's standpoint, Lincoln seems to be hitting the notes it needs to to bring the brand back. New products, inside and out, partnered with a renewed commitment for customer satisfaction has long been a successful formula for turning a company around. The biggest question now is whether people will actually see the brand differently, rather than the stale badge-engineering entity that Lincoln had become.
The biggest opportunity that Lincoln faces is most likely in China where Ford has yet to launch the Lincoln nameplate. In China, consumers — who are reportedly fiercely brand-conscious — will see Lincoln as an American luxury marque but without the stigma that's been attached to the brand over the last several years.
Here are the different trims, as described by Ford:
Center Stage: Inspired by fashion and theater, Center Stage is designed for the most expressive clients. The Jet Black interior is highlighted by a Foxfire Red headliner, capturing the drama of being in a dark theater with the impact of a rich, deep red accent color. Alcantara suede with uniquely designed perforation adds plush texture to the doors and seats.
Indulgence: Indulgence is inspired by the lure of premium chocolate to ignite a rich sensory experience. Ganache– and Truffle-colored Venetian leather with a subtle antiqued finish adds richness and depth. The Ziricote wood trim features a beautiful natural grain and color inherent in the wood with no added dyes or stains. This wood — new to the automotive industry — is often used in high-end yachts.
Modern Heritage: Modern Heritage offers a fresh take on the classic black-and-white interior with subtle red accents. Designed for the client who appreciates a clean, modern aesthetic, the soft white interior is warm and inviting. Renewed and engineered wood trim — imbued with metal flake between its layers — creates a sparkling effect to stylishly highlight this modern classic design.
Don't Miss: Releases and Recalls: 7 Head Turners from the Auto Industry.