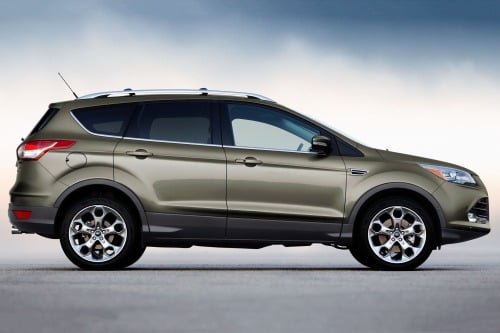 A few years ago, the idea of a U.S. automaker being unable to meet the demand for its vehicles would have sounded ludicrous. But with sales of its F-150 pickups, Fusion sedan, and Escape SUV on a roll, Ford (NYSE:F) is actually facing that happy predicament with the latter two. The popular Escape and Fusion are down to a 40-day supply, according to Ford executives, and the automaker is moving to expand output at several U.S. plants.
The Detroit News reports that Ford is considering adding a third shift for round-the-clock production at its Louisville, Kentucky, plant, while trying to increase the car-per-hour pace at its Flat Rock, Michigan, plant in order to account for the heavy demand. A quick check of auto sales thus far in 2013 shows why Ford needs to increase its supply of its compact SUVs and mid-size sedans.
The Fusion and Escape place ninth and 10th, respectively, of all vehicles sold in 2013 through July in a chart compiled by Reuters. Each one has posted nearly 180,000 units sold in 2013, but the Escape's 20 percent increase compared to 2012 is even more notable than the gains of the attractive Fusion. Both have allowed Ford to eat into the market share of Toyota (NYSE:TM) in California, which had been incredibly difficult for the automaker, The Wall Street Journal reports.
According to the Journal, sales of the Escape are of the "conquest" variety, taking away buyers who'd normally look toward the Toyota RAV4 or the Honda (NYSE:HMC) CR-V when shopping for a compact SUV. However, sales in July reflected a turn back to the import SUVs. Though both compact SUVs trail the Escape's record pace for 2013, sales of the CR-V (up 32 percent in July) and the RAV4 (up 28 percent) compared to last year trounced the Escape's 3 percent increase.
That would indicate that supply problems are getting the better of Ford at the moment, and the company ought to do everything it can to meet demand in order to continue taking market share in key coastal markets, especially Toyota's stomping ground of California. The Fusion, with sales up more than 13 percent for the year, actually showed a 12 percent decrease in July compared to 2012 figures.
The Detroit News reports Ford plans to add a shift at its Flat Rock, Michigan, plant to accommodate the demand for the Fusion, and the company is actually scheduling relief duty when workers at the Louisville, Kentucky, plant take lunch breaks in order to keep production of the Escape humming. While the investment in additional labor costs may be considerable, Ford will ultimately see it return in month-to-month sales and possibly more market share gains.
Here's how shares of Ford and Toyota have traded over the past 5 market sessions:

Don't Miss: 9 Great Cars for the Concrete Jungle.