Can Ford Steal Corvette Thunder With This New Mustang?
The news about Ford (NYSE:F) has been so positive of late it's tough to see any dark spots. However, the flurry of attention heading GM's (NYSE:GM) way for its new Corvette Stingray could be one. As the date of the new Mustangs approaches, Ford will try to steal some of that Corvette thunder with high-performance vehicles like the new Shelby from its Special Vehicles Team.
Most consider GM's Camaro the main competitor of the Mustang, but as a top-line attention-grabber, the Shelby line of vehicles goes beyond pure muscle. Ford needs thrilling cars that compliment the practical Focus, the brawny F-Series pickups, and the crowd-pleasing Fusion. In the next Mustang Shelby GT, they are likely to have a car that snatches attention from the more elegant Corvette Stingray. Already, spies are out jockeying for a look at Ford's Shelby test cars.
 Mustang6G.com has had its teams out for glimpses of the iconic Ford muscle car, and spy footage like that above will likely continue getting posted all the way up to the expected release date of  the 2015 Mustang in July 2014. Once available to the public, Ford will have the task of outselling GM's sports car offerings.
In terms of selling statistics, the Mustang has consitently sold less than 100,000 units per year since 2008. In the decade prior to the recession, Ford topped 150,000 in Mustang sales on several occasions, though the Camaro has consistently outsold Ford's muscle car. The next-generation Mustang will need to deliver on the investment Ford is making to beat the Camaro.
To pull that off, Ford will need to build up hype on its way to auto show introductions and deliver on what the Mustang does best: offer the most muscle at an affordable price point. GM has the entire spotlight for its universally loved Corvette Stingray. Ford investors should be happy about the automaker's current lineup, but a high-profile Shelby GT could push the blue-oval brand into the next dimension.
Here's how shares of Ford and General Motors have traded this year: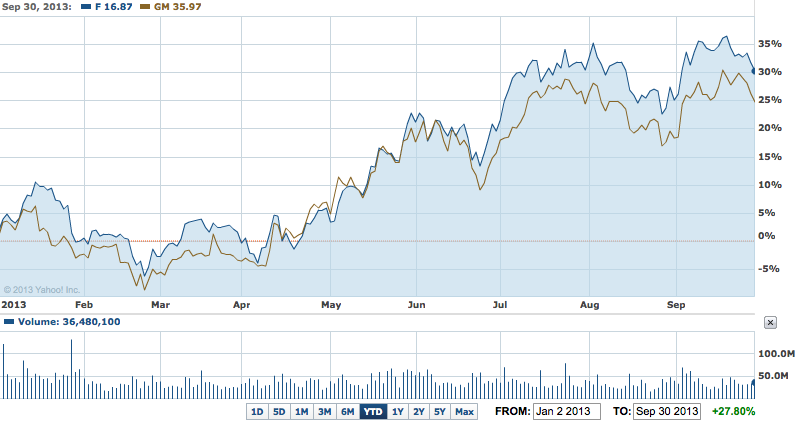 Don't Miss: Will the Corvette Stingray Sport This New Transmission?