Can Ford's Newbies Help it Fly High in China?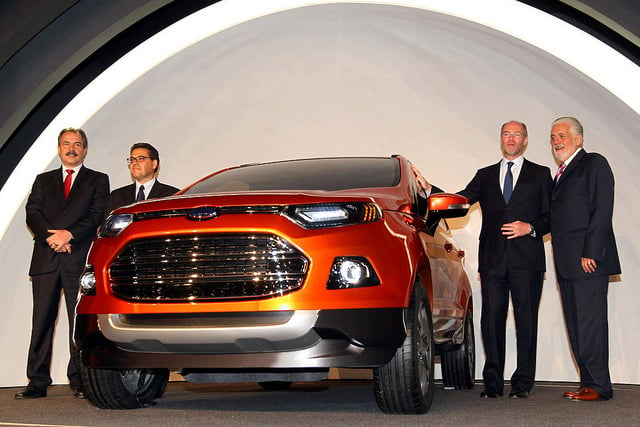 Ford Motor Co (NYSE:F) is forecasting big things for its operations in China, the world's largest car market. The Dearborn, Michigan-based carmaker became China's fastest-growing major foreign automaker this year, and the company is expecting its sales to outpace the industry in 2013.
Competing with foreign competitors Toyota Motor Corp (NYSE:TM) and Volkswagen AG in China's hyper-competitive auto market, the Michigan-based automaker is expecting its China passenger-vehicle sales to increase 8.5 percent, for a total of about 16.8 million units in 2013, on par with the China Association of Automobile Manufacturers's estimates. The sales surge would align with the success Ford has already seen in the first five months of 2013 in China. The automaker's shares rose 48 percent, placing Ford in front of its competitors.
Ford's Focus compact, EcoSport, and Kuga sport-utility vehicles are the main attractions for Chinese drivers right now, and the automaker's success in the region is likely to continue, especially as it introduces the Mondeo sedan and the Sync AppLink, an interactive feature that Bloomberg explains, "allows drivers to use smartphone applications through voice commands." To customize these mobile apps for its Chinese consumers, Ford will work with Baidu.com Inc. (NASDAQ:BIDU) and Sina Corp (NASDAQ:SINA).
But Ford isn't the only U.S. automaker that is especially focused on tapping into the lucrative Chinese auto market. General Motors (NYSE:GM) too has its eye on the prize, and it even broke ground in China this week as it prepares to build a factory for its Cadillac luxury brand. The plant, capable of producing 160,000 cars a year, will help support the demand for GM's luxury vehicles as the automaker expects to account for two-fifths of the market by 2020. It was also designed to house a research and development center.
On par with that goal, GM plans to triple the number of Cadillacs sold in China by 2015, which will bring it to a total of 100,000 vehicles. Though other luxury car brands provide stiff competition, the Cadillac's unique look and angular design sets it apart among the other established luxury brands in the market.
With auto sales forecasted to be as high as 32 million by 2020, it is unsurprising that foreign and domestic automakers everywhere are racing to get their foot in the China market door.
Don't Miss: 7 Most Made-in-America Cars That You Can Buy.